With its beautiful lines and smooth rowing, the Melonseed is a great boat for inland lakes and harbors. Rowing enthusiasts will appreciate the available dual sliding seat rowing stations. The sailing model is the best of both worlds for a combination rowing and sailing boat.
For many years we received requests for a boat that rowed as well as our 14′ Whitehall and was just as attractive, but that had more capacity and while still being blazingly fast. People also requested the ability to row tandem with sliding seats without worrying about clashing oars or keeping a delicate balance. Plus, seaworthiness for long open water adventures was also desirable. We designed the Melonseed to meet all of those needs, and the response was overwhelming as it has become one of our most popular models.
We originally introduced the Melonseed as a pure rowboat after studying its historical design, which is a derivative of the famous Jersey Beach Skiff. The Jersey version, being used for a mixture of rowing and sailing as a workboat, has a higher freeboard for dryness under sail and greater load carrying capacity. However, a pure rowing boat is hindered by that high freeboard due to increased windage, weight, and steeper oar angle. With this in mind, the Melonseed was developed with an almost identical underbody as the Jersey Skiff, but she is built with one less plank at the sheer.
This Melonseed has a fine bow and stern, elevated ends to drive over chop, and a stunningly graceful sheerline. It has a flat bottom (called a box keel) which furnishes tremendous tracking ability.On the box keel, she sits flat and secure on a dock or beach instead of leaning on to one side like a fin keel boat such as a Whitehall. The length of 16'5″ and the substantial beam of 64″ allows the use of long sweeps without the need for custom outriggers.
We subsequently introduced the Melonseed Skiff after many requests from our customers who loved the lines of the rowboat, but who wanted a capable sailing version. We have added a sealed deck, an aluminum mast, a balanced lug rig, and a daggerboard which still allows dual sliding seat rowing with the mast up. The balanced lug rig gives the sailboat good performance in light wind yet requires no stays to support the mast making it very easy to rig. The mast itself is 12′ long and weighs only 15 pounds, making it very easy to handle. The daggerboard is just below the front seat so that it can slide right over the top without impediment. The console for the mainsheet is removable to quickly convert the boat from sailing to rowing configuration. With the long box keel and the balanced lug rig, the helm is remarkably natural with just enough weather helm to make sailing easy even for a beginner.
The rowing and sailing versions of the Melonseed share an identical hull, but because of the constraints of sailing design, the sailing Melonseed includes a sealed deck, which effectively increases freeboard. There is very little difference in the rowing performance of the rowing and sailing versions.
If this sounds like the boat you have been waiting for, don't hesitate to call us!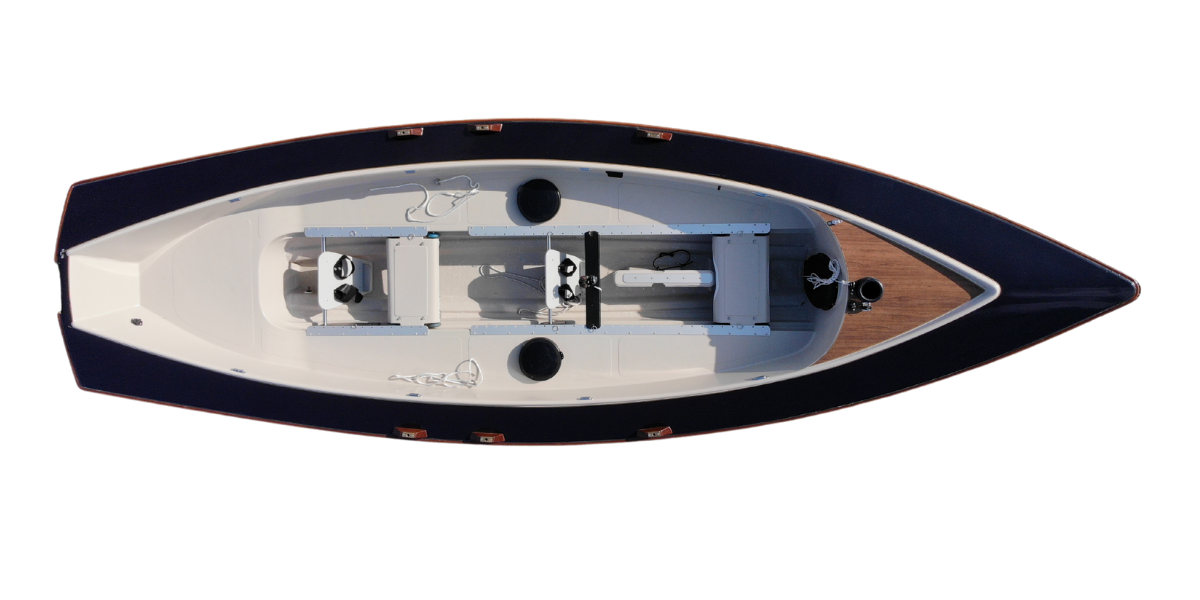 Melonseed Full Specifications
Melonseed Specifications
LOA:
16'6″
BEAM:
64″
DISPLACEMENT:
195 lbs (without deck) / 255 lbs (with deck)
(Displacement shown is fiberglass, kevlar is unavailable in this model)
SAIL AREA:
90 sq ft.
Model-specific options:

Storage hatches
Tandem sliding rowing seats
Lug rig gear bag
Melonseed Photo Gallery (click to enlarge):
Meow Gallery: This ID wasn't found in the Gallery Manager.
Praise for the Melonseed:
Excerpts from the Small Craft Advisor Magazine review:
"We think the Melonseed represents an excellent value. She's quite versatile, being a pleasurable sailboat, an exceptional rowboat, and being small enough to manhandle but large enough to bring crew, the dog, or a few crab pots along."

"More stable initially than a typical dinghy at the same length, the Melonseed isn't twitchy or overly sensitive to crew movement, and her pronounced sheer means her ends carry her up and over choppy seas."

"Rowing performance was, as expected, excellent. All of the owners we communicated with seemed overwhelmingly satisfied with performance under oar."

"…she offered exciting sailing right down next to the water, but she also felt stable and didn't require exceptional athleticism to handle even during our races. In a word she was just like her rig: simple."
Read more highlights over on our blog or download the full review. (pdf file)
"Thank you for the beautiful Melonseed! Classic looks (with far less maintenance), solid construction, and amazing craftsmanship! Mahogany trim and seats just pop against white hull and deck. As expected, the features that you and Falk recommended are ideal for my family's needs.

Entire experience with GHBW has been outstanding! Knowledgeable, gracious, and very patient service. Guidance that truly meets the customer's skills and interests. Final product that combines high-quality, reasonable price, great function, and traditional beauty. We could not be happier with GHBW and with our Melonseed! Thank you, Janet, Falk, and rest of the GHBW crew for your time and hard work!"
– Michael (17′ Melonseed)
Click here to read more customer testimonials about the Melonseed
"Well, I launched the Melonseed over the weekend, and I am VERY impressed with her! I've rowed her (standard oars and forward rowing system), sailed her, and even ran the electric propulsion a bit. All work very well. I was particularly amazed how well she sails – and also how simple the balanced lug rig is. Wow! My wife, Peggy, says the Melonseed is a keeper! We even dropped anchor out on Campbell Lake Saturday evening with a picnic dinner. Dropped the sail, enjoyed a relaxing meal out on the water, and then raised the sail back up to sail home. Perfect! I know the Melonseed will allow me to get my family out on the water a lot more! Again, thank you, the Melonseed is GORGEOUS – and I'm anxious to try sliding seat rowing with my traditional sculls soon too!"
~Mark (17′ Melonseed)
Click here to read more customer testimonials about the Melonseed
Here, Falk demonstrates the Melonseed's buoyancy:
Read more about the USCG buoyancy test in our February 2010 Newsletter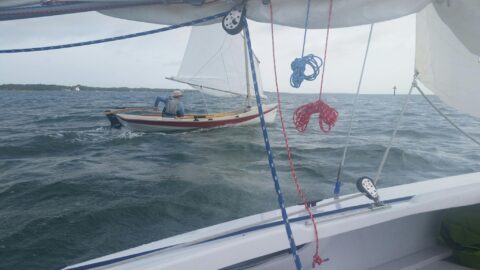 Shawn Payment took a Melonseed sailboat to the OBX 130, "a moving messabout" exploring anchorages of North Carolina's Outer Banks.
Video: Comparing the Jersey Skiff and the Melonseed
One of the most popular questions we get is, "What's the difference between the Jersey Skiff and the Melonseed?" Both of these boats originated as traditional working boats on the Eastern seaboard. Watch as our founder Dave Robertson shows us the difference out on the water.
Imagining your ideal boat?
Take a turn through our online quote creator to see the possibilities. No haggling, no commitment.