We specialize in handcrafted boats, custom-built to order.
Every model we build has a wide range of options that you can customize to suit your specific needs.
The picture below shows three boats, which are all 10′ Navigator Dinghies built for different customers. On the left is a standard base rowboat, in the center is a high performance Kevlar sailboat with black gelcoat stripe, and on the right is a custom yacht tender with blue gelcoat stripe, wood sheer, and rope inlay.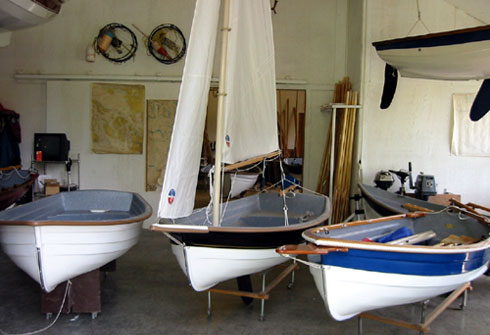 All of our boats are available in both rowing and sailing versions (except the 12′ Scamp, which is only available as a sailboat). Our standard base models are all complete boats ready to head to the water. Sailboats are ready to sail with all top quality sails and rigging. Note that oars are not included in the base price since most customers prefer to choose the length or style. 
All Standard base models include:
white gel coat exterior
gray gel coat interior
bonded vinyl rub rail
bronze oarlock sockets
bow eye
motor board
While the standard model is perfectly capable and functional, you can customize your boat with additional options and accessories to truly build the ideal boat for your needs. 
1) Built-In Options
Built-In Options are manufactured permanently, or semi-permanently, into your custom-ordered boat. Options encompass structural, cosmetic and operational choices. Custom gelcoat colors, keel strips, wood trimwork, and sliding rowing seats all fall into this category.  Also note that each of our models has its unique, model-specific options that are listed on the individual boat pages.
2) Accessories
Accessories are non-permanent items which can be easily changed, removed, or added later.  These are things like oars, motors, gear bags, and boat covers.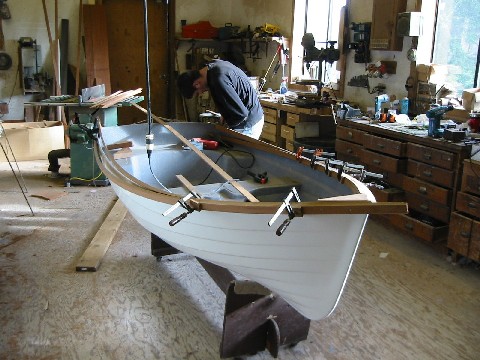 Here Falk is putting the wood gunwale on a Nisqually Dinghy. We are craftsmen in the old world sense of the word. We take pride in each boat, and we believe that it shows.