The Whitehall is a classic design to row and sail. Used for work and recreation in the Harbor at the turn of the century to transport goods and people, it has a long waterline and flowing lines – amazingly fast for a small boat.
Our version of the traditional Whitehall is the ideal boat for the person or family who enjoys the look and performance of classic design. It easily carries four adults, and with one or two people rowing, our Whitehall achieves remarkable speed. We've combined the lapstrake style above the waterline with a smooth bottom for the ultimate combination of appearance, strength, and light weight. She is also a very smooth, stable sailer with excellent performance on all points of sail.
Before the invention of the gasoline engine, Whitehalls were the boat of choice for the working harbor. Whitehalls were used by crimps to deliver goods – legal and illegal – to arriving ships; by water taxies to ferry passengers from ship to shore; and even by the shore patrol to chase those same crimps and ne'er-do-wells!
Today's Whitehall owner will find this boat fast and yet stable, well-suited to fun on the water whether it's fishing in the bay, a picnic on the far shore, a long row out to watch the sunrise or sunset, or a quick sail on a Sunday afternoon to let the cares of work float away. The long waterline for its length gives the boat a nice carry so that with a steady stroke the boat will stay near hull speed with minimal effort. The straight stem and narrow entry cut the chop for a smooth ride even when the weather kicks up a bit.
An optional sliding rowing seat is available for the person who wants the performance of a rowing shell but still wants load carrying capability. Optional laminated wood trim enhances the traditional look.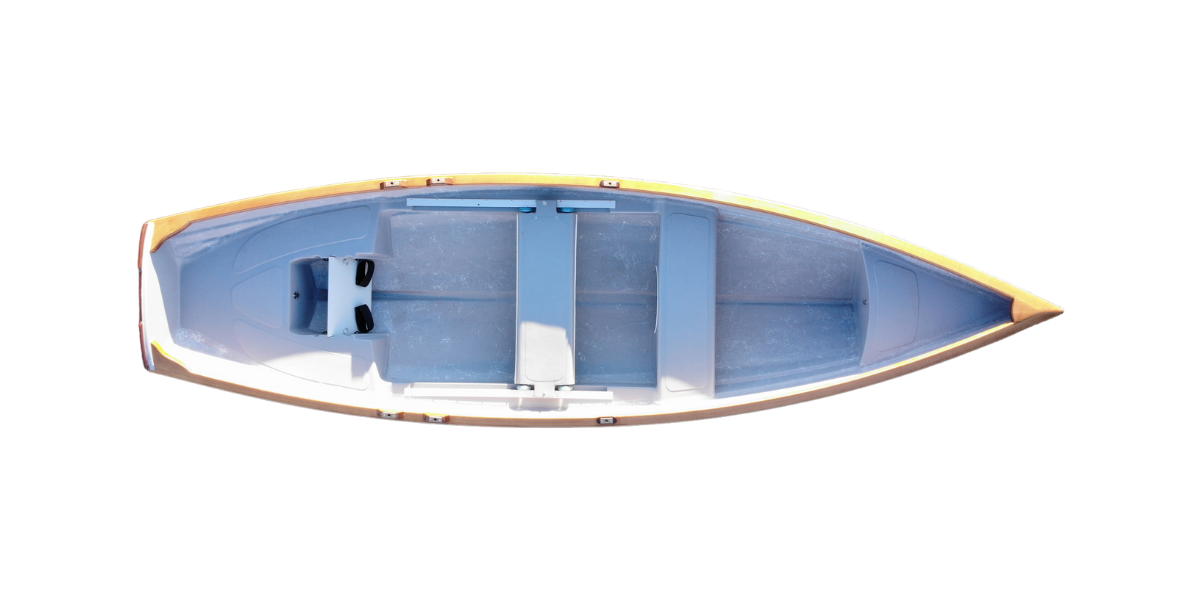 14' Whitehall Full Specifications
LOA:
14′
BEAM:
55″
Fiberglass
Kevlar/Composite
DISPLACEMENT:
145 lbs
125 lbs
SAIL AREA:
Main, 57 sq. ft.
Jib, 28 sq. ft.
Model-Specific Options:
Whitehall Gallery (click to enlarge):
Praise for the Whitehall:
"Finest boat I've ever had. Lovely – classical to look at – and just pure adrenaline to row. As you know I'm an ex-sculler moving from a 24′ racing shell. But at 81 my balance isn't what it used to be, especially in the summer time rolling water of Lake Chelan. But the Whitehall, with sliding seat (unique design that works perfectly), long oars and the fine entry I get the same effect as with the shell but all the stability I couldn't achieve in the skinny boat. And, I swear I'm going through the water just as fast. I congratulate you on the great design, super-duper options and the patience to put up with my never ending requests. I love the "Miss Daisy."
~Nat, Lake Chelan WA (14′ Whitehall)
Click here to read more customer testimonials about the Whitehall
"Sailing an open boat for hours on end at hull speed is more fun by far than anything with a motor (or a trapeze). This boat and her skipper became one integrated and supremely satisfying unit. She balances well in all conditions and picks up her skirts in anything over 8 kts. She slices the water so cleanly, the wake fades in a few boat lengths. And aside from a few dollops of water over the lee rail when my attention lapsed, she's quite dry. I did get wet, but only a bit. Since I could easily have been dunked, that was no problem. "Quite a vessel you make. I doubt you've engineered it for quite this type of abuse, but she passed this unplanned trial with flying colors.My complements!"
– A. Nelson, Santa Barbara CA (14′ Whitehall)
Click here to read more customer testimonials about the Whitehall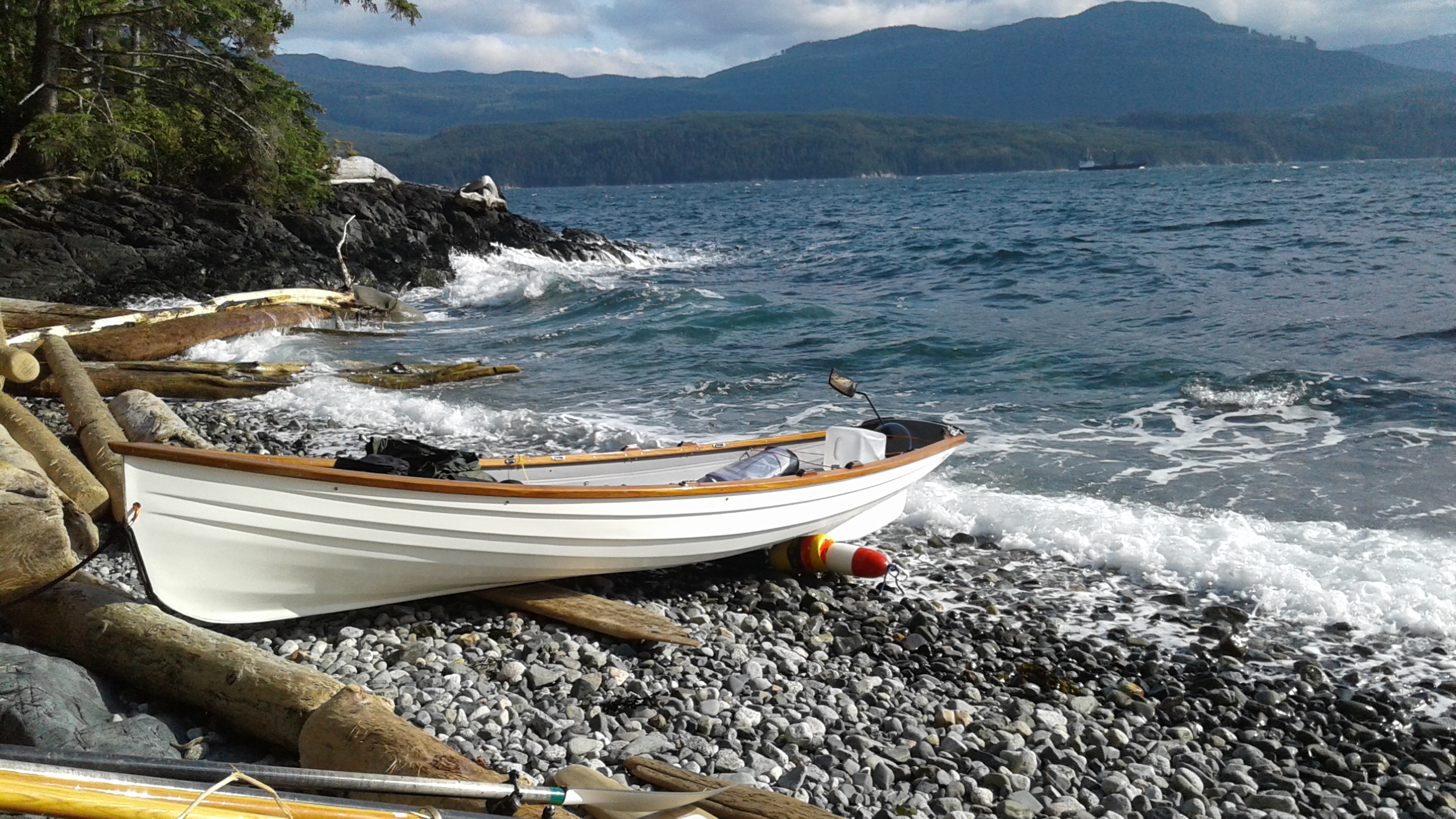 Ken Poskitt took his Whitehall on a 1400 km journey from Victoria BC to Alaska.
See the Whitehall in Action
Imagining your ideal boat?
Take a turn through our online quote creator to see the possibilities. No haggling, no commitment.