"I have to say it's the biggest little boat I've ever sailed."                        
– 48 North Magazine
The Scamp is a seaworthy 12′ sailboat that can handle a good dose of adventure.
Just under 12 feet in length, Scamp boasts an unusual combination of features that give her the unique ability to explore waters too shallow for a larger boat, while retaining most of the bigger boat's comforts and capabilities. An offset centerboard opens up the cockpit and an 8′ 3″ sleeping area, and 172 pounds of water ballast provide exceptional stability. The cockpit is self-bailing, and a pair of grounding skegs on her flat bottom keep Scamp perfectly upright when landing on a beach or when the tide goes out.
Originally designed as a wood boat by John Welsford, Gig Harbor Boat Works worked closely with the designer and staff from Small Craft Advisor to create a fiberglass version. Scamp #1 hit the water for its first sea trial in July of 2013!
As a specialized boat, the Scamp has some different options than the rest of our boats. We have had quite a few questions about Scamp's option list so I thought it best to go into more detail below about the various choices. Be sure to check out the "Scamp Options" tab below for photos and descriptions of all the available options.
I'd like to emphasize the fact that we build and sell all of our boats complete, ready to sail. Our "basic'" Scamp is sail ready with exactly the same top quality parts and materials as a "fancy" Scamp — you don't have to add anything to go for a satisfactory sail. Our 'Base' boat's level of completion is the same as specified in the Scamp plans or kit for DIY home builders. Options are exactly that… individual choices made by the owner to suit their cosmetic desires and refine performance.
Fiberglass SCAMP Overhead View
Shown with optional floor storage hatch and optional wood trim. Motor not included.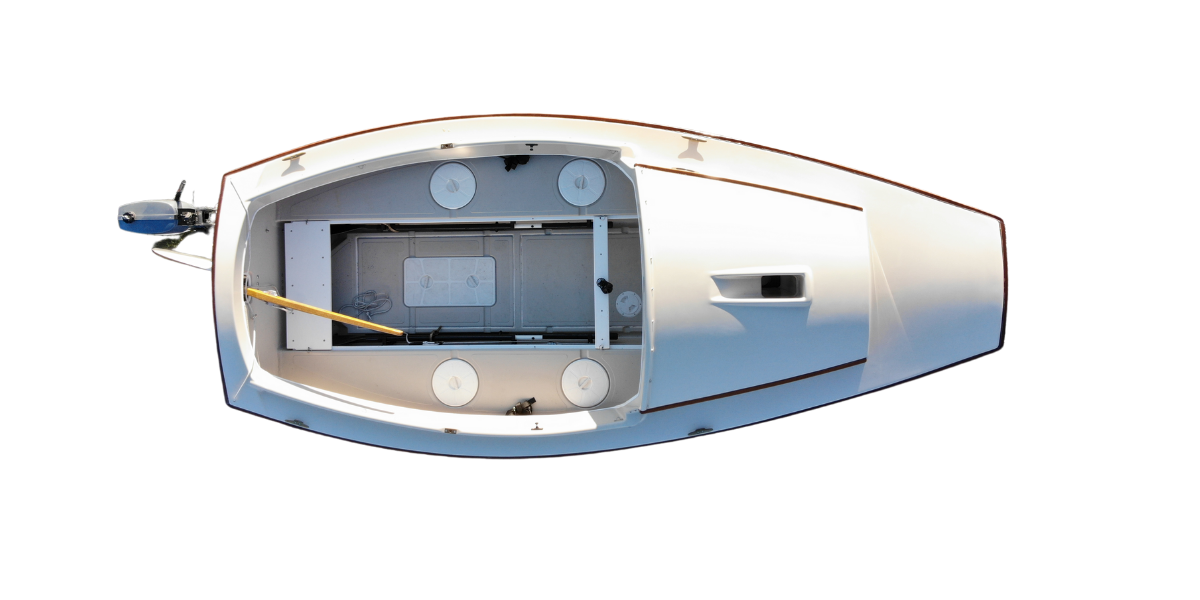 12' Scamp Full Specifications
LOA:
11'11"
BEAM:
64″
DISPLACEMENT:
420 lbs
(Displacement shown is fiberglass, kevlar is unavailable in this model)
Model-Specific Options:

Bronze deadlights
Floor storage hatch
SCAMP Photo Gallery (click to enlarge):
More about the SCAMP:
Gig Harbor Boat Works, known for their strong, esthetically pleasing rowing boats, has already shipped a number of the new SCAMPS all over the country and overseas. "The kit boat has a lot of intricate details that the home builder may not have the talent or tools to build," says Dave Robertson, owner of GHB. "With the fiberglass version, they can enjoy using the boat right away." The GHB boat is truly sail-away complete; from oars to sails.
There are many innovations designed into the SCAMP that make it truly a big little boat. One thing that usually takes up a lot of cockpit room of most small boats is the centerboard. The SCAMP's centerboard, very heavy but swings up easily for trailer or grounding, is offset to starboard so that it doesn't intrude into the cockpit. I'll let you call Dave to explain the physics of the offset. Suffice it to say that we didn't notice a difference on either tack. The result is it opens up the cockpit which feels more like that of a of a San Juan 24.
The boat was surprisingly quick and very stable. "This boat can't be just 12'long," I thought. I stood up and rocked it side to side with minimal affect. It felt like 20-footer.

Sailing the SCAMP made me a believer that it actually would be a safe and enjoyable way to explore the San Juans, as well as just knocking around the bay for a fun day of sailing. The SCAMP had lots of surprises, all good.

I have to say it's the biggest little boat I've ever sailed.
See the price list for current pricing of Scamp options
Cosmetic options
Hull color change ( White hull exterior is standard)
This option allows you to customize the hull exterior to the color of your choice.  For the best balance of pizzazz and reasonable maintenance, we recommend that color only be added to the top strake and the balance of the hull be left white. Why? A white underbody doesn't show scratches like a dark color, it is easy to repair, and Scamp has high freeboard so a darker sheer strake lowers the apparent freeboard. If you add color to the top strake, we will extend the color across the top of the bow and leave the stern all white for best visual balance.
Deck and interior color change (Bisque Tan deck and interior are standard)
The Bisque color is neutral so goes with any accent color – it also doesn't show scratches and is easy on the eyes. However, we can make the topsides any color you want; for more than a basic color change the price varies with color and pattern.
Bronze Deadlights (white nylon deadlights standard)
Mahogany Gunwale trim (standard gunwale trim is tan vinyl)
This wood trim option also includes mahogany 'eyebrows' on the cabin sides. Other wood trim such as coaming or seat top overlay is available on a custom basis.
Custom Sail Color (standard is 'Egyptian cotton)
Any color available, price varies with color and pattern.
Hull options
Stainless steel keel guards
Over 90% of the boats we build are specified with stainless steel keel protection. Fiberglass is a wonderful boatbuilding material; easy to conform to compound shapes, hard smooth finish, eminently repairable; but it is NOT abrasion resistant. Pulling a boat onto a beach is asking for grief, especially if parts of the boat have a sharp edges forming high pressure areas…. like the keelsons on Scamp. Protecting the keelsons is a lot cheaper than fiberglass repair.
Floor storage hatch
There is a lot of usable, easily accessible space under the cockpit floor. This optional storage is a sealed chamber approximately 18″ wide x 30″ long with depth varying from about 8″ at the forward end to 4″ aft. The hatch accessing the storage is a rectangular Armstrong style with 14″ x 21″ opening. If you plan to add electric propulsion or accessories this is an ideal location for batteries!
Bilge pump, handheld manual style
Rain and spray is contained in the cockpit sump at the transom. This can be scooped or sponged out easily. However, if you somehow get water inside the seats or underfloor that is a relatively inaccessible area. Although chances of getting much water in this area are slim, it helps to have a portable handheld pump handy.
Outboard motor bracket
Bolts to outside of transom. Owners have noted that a permanent motor mount on Scamp is, well, ugly. So we researched a removable mount that has only a flat plate permanently bolted to the transom. The actual motor carrier clips onto the plate with a simple quick pin, no tools required to install or remove the bracket.
Bronze 5″ cleats
Stainless steel pop–up cleats
Performance / operational options
Trailer, galvanized, custom designed for Scamp
Scamp is very difficult to fit correctly on a trailer; the twin keelsons, wide chines and flat bow just don't work with any standard trailer. We designed a custom trailer specifically for this hull. It is 100% galvanized and has three aft rollers to accommodate self centering on the keelsons. Scamp has a tendency to skate sideways when loading, so we install carpeted side guides and a central crossmember roller to make loading simple. Forward is a carpeted transverse bunk to support the fairbody, and finally a special twin chock winch pedestal. Oh yeah, bearing buddies are standard too.
Swiveling mainsheet cleat with removable base
The mainsheet cleat is fastened to a transverse board between the seat tops. You can adjust the position of the board and cleat fore or aft the length of the cockpit or remove it entirely by pulling two stainless steel fastpins.
Jiffy reefing
Three Reef points in the sail are standard, but there are no reefing lines or cleats. If you want jiffy reefing we"ll set up two complete ready to use reefs.
Compass, bulkhead mounted Richie #RITV57.2
Oars, 9'4″ 2-piece fiberglass shaft with bronze oarlocks
Scamp's high freeboard and wide beam requires 9'+ oars which are impossible to stow in Scamps' cockpit. We have engineered high quality, strong 2 piece 9'4″ spoon blade oars that disassemble and store concealed inside the cockpit coamings. Another practical storage area is on the vertical seat sides, clipped into modified fishing rod holders.
Cover for trailering/storage
Top Notch fabric, custom sewn for Scamp.  Protects deck and cockpit during trailering and storage.
Bimini/Camping style cockpit cover
Fully enclosed bimini cockpit enclosure with zippered windows and side curtains. Sides zip off individually for fully-customized protection from the weather.
Scamp spar and sail bag
We are always looking for ways to simplify sailing, and one of the most vexing chores is the assembling the rig. Wouldn't it be nice to be able to pull the completely assembled, ready to hoist sail and spars out of a bag? This special bag is 12′ long and has two long pockets; the lower pocket is for the two-section mast. The upper pocket has a full length zipper so you can store the sail lashed to the yard and boom with even the jiffy reefing in place. Just pull the mast with halyard attached from the bag and plop into the cabin-top 'Scamp Ramp.'  Then fasten your halyard to the Yard and hoist the whole rigged sail out of the bag. All you have left to do is run the halyard and downhaul to their respective cleats, clip the mainsheet and lazy jacks to the boom and away you go. 10 minutes, done.
Stirrup reboarding system
Transom boarding ladder ….. still under development
SCAMP Rigging Tutorial
If you're not familiar with balanced-lug rigging, here's a great tutorial showing how to set up this simple and intuitive rig.
Imagining your ideal boat?
Take a turn through our online quote creator to see the possibilities. No haggling, no commitment.