Yacht Tenders
Row. Sail. Motor.
Our traditional-style yacht tender dinghies are made for more than just ship-to-shore. Classic Beauty with Modern Versatility
Gig Harbor Boat Works is the builder of a unique line of premium small boats for rowing and sailing. Our yacht tender dinghies are modern fiberglass versions of traditional working boats, used by people who earned their living using only wind and oar.
Back in the days of working sail, a good ship-to-shore dinghy could make or break the tradesmen who ferried cargo and passengers from tall ships into port. A dinghy had to be tough, stable, and forgiving in a variety of weather conditions. 
We've updated these classic designs in lightweight yet durable fiberglass composites. The result is a convenient, low-maintenance tender that is easy and fun for modern boaters to use. While you can use our dinghies with an outboard motor for quick ship-to-shore runs, the fantastic rowing and sailing performance also makes for a boat you'll enjoy in its own right. Gig Harbor Boat Works is a local homegrown company founded in 1986. We are small craft specialists, using our experience as boaters and craftsmen to create boats that combine traditional design with modern materials and conveniences.
Almost 40 years later, our boats are still proudly built here in Gig Harbor, WA and we are recognized for excellence in the small craft community worldwide.
Our tenders are made for more than just good looks… they're built for folks who really want to get out there and enjoy everything that life on the water has to offer. For instance, our rugged designs, durable fiberglass construction, and low maintenance finishes are ideal for yacht owners who don't want to fuss over their tender… yet want it to be ready for action when you are.
Our standard dinghies come with a durable vinyl trim  — but wood trim upgrades are available for those who prefer some showstopping brightwork to complement your mother ship.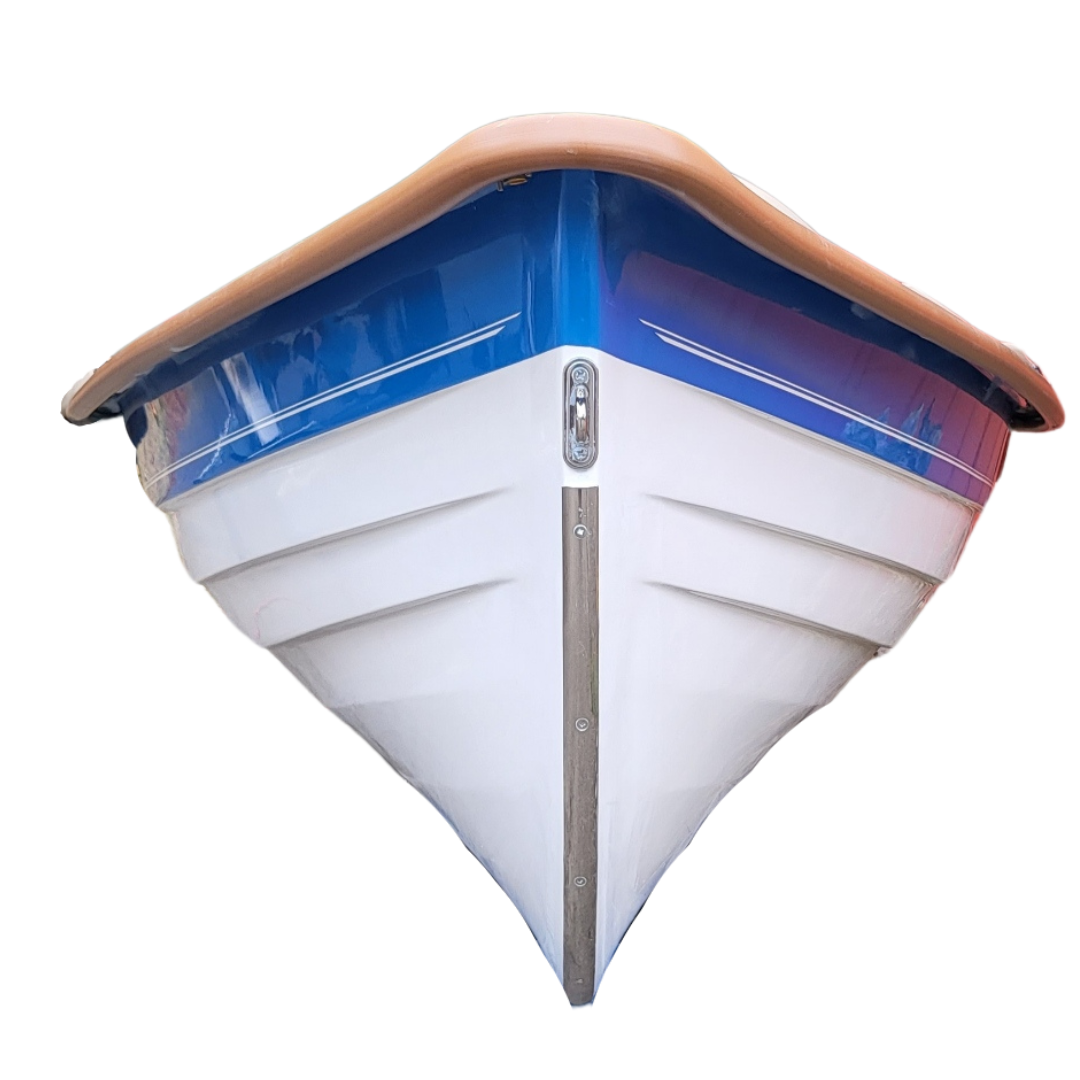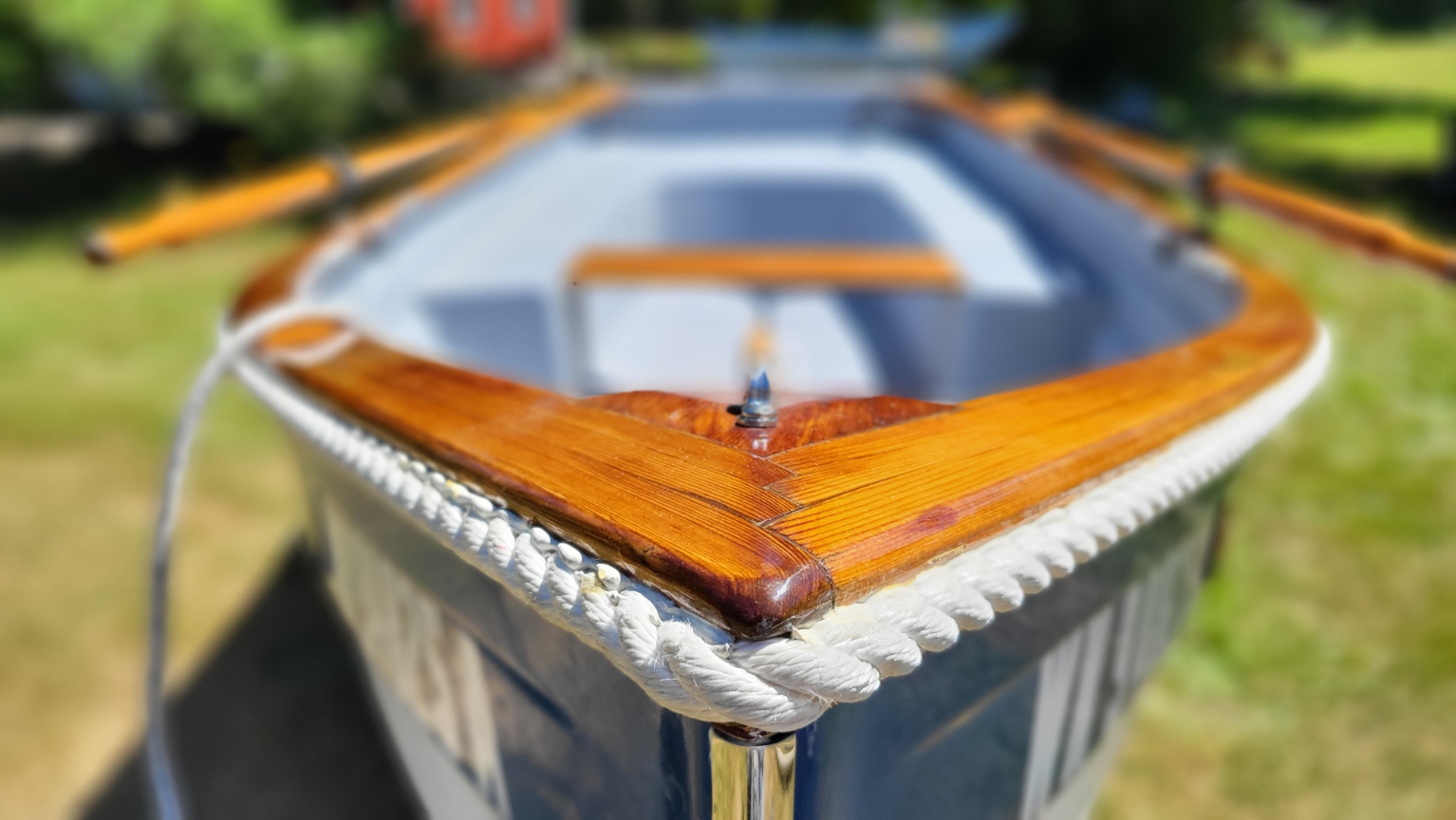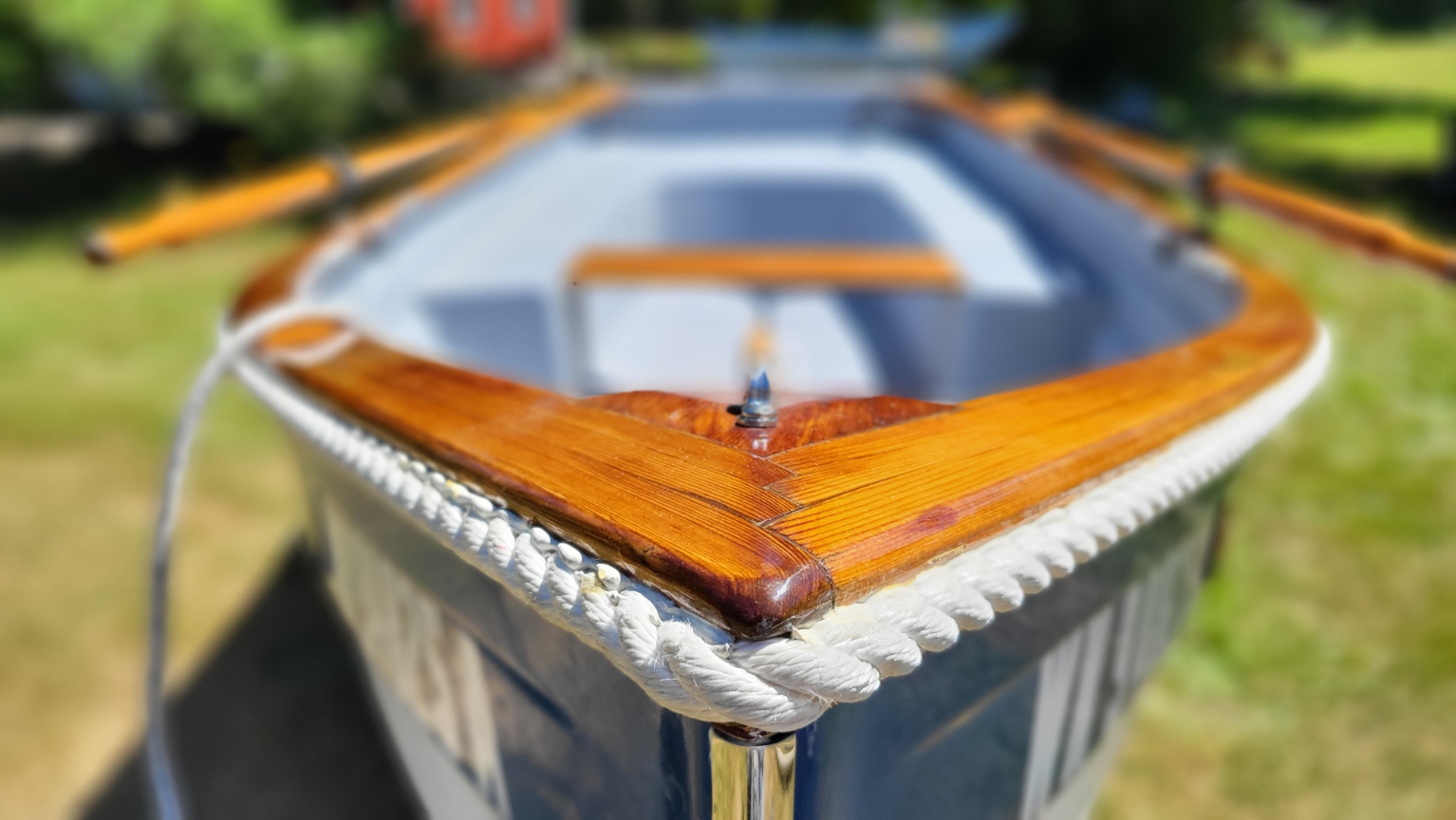 Ship to Shore . . . and More
We custom build each boat to order, so you can take home exactly the tender you want. Decide what model suits you best, then customize it to fit your unique needs. (We're here to help when you need us.)
Gelcoat Color
Our standard rowboat comes in classic white — but we can add gelcoat color to personalize your boat or coordinate it with your mother ship. See color options >>
Wood Trim
Get the timeless look of a traditional wood boat by upgrading your boat's vinyl rubrail to a laminated wood sheer. (Shown here on our 10′ Navigator.) See examples of our custom woodwork >>
Built-In Mounting Hardware
Protect the longevity of your tender by adding reinforcement for side/swimstep mounting, or 4-point lifting eyes for suspension from davits. We also offer consultations on unique mounting challenges you may have, and have even built two-piece "nesting" dinghies for those with limited deck space for tender storage! Curbside Shipping Nationwide
Proudly made in Gig Harbor, WA, carefully packaged, and shipped to your door—from sea to shining sea.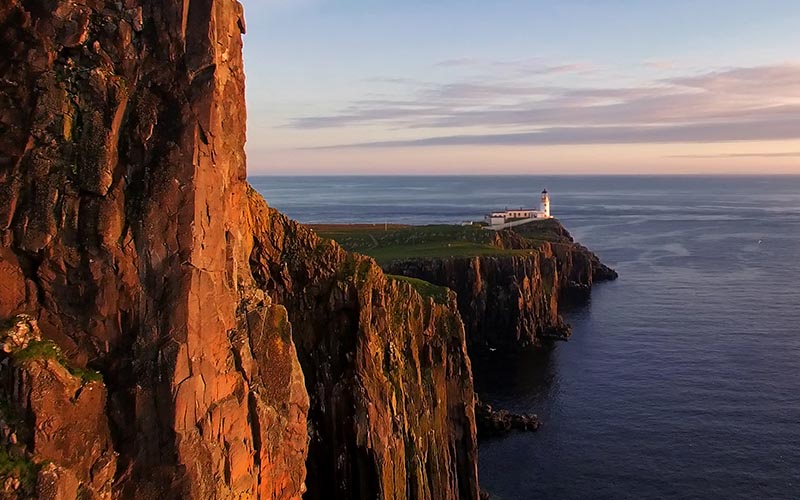 How do I place an order ?
We don't currently have online checkout, so we recommend filling out our online quote form or calling us at 253-851-2126 to consult with our customer service team. Once we discuss your order we'll generate an official quote from our accounting system. When you're ready to accept your quote and proceed with the order, a 25% refundable deposit secures your place on our build list.
How long will it take to build my boat ?
Seasonality can impact build times greatly, but we strive to keep delivery times down to 2-3 months from the time we receive your order. Contact Us for current waitlist status.
Can I use an outboard motor with your boats ?
Yes, our boats are USCG rated for up to a 2HP outboard motor. In fact, most of our models include a built-in motorboard on the transom for this purpose. (The others can be outfitted with an outboard motor bracket that provides the necessary support.) We recommend a short-shaft motor with a reverse gear. If your motor doesn't have a reverse gear, you will need a long-shaft motor to clear the skeg when reversing.
Where I can see your boats ?
We regularly exhibit at the Seattle Boat Show and around the Pacific Northwest, and welcome visitors at our boatshop in Gig Harbor, WA. If you're further afield, we recommend taking a look at our YouTube for an up-close look at our boats, and asking around at your local marina. We've been building boats since 1986 so there are a good number out there, and we have a stellar reputation for quality work!
P.S. At this time we do not have dealerships, we only sell direct-to-consumer with no middle man marking up our prices.
"The Nisqually is a scaled-down version of a utility boat commonly rented out for recreational purposes during the 1890s. The optional Kevlar-reinforced version… is exceptionally light and strong; the heavier, solid-fiberglass version is still quite light thanks to its single-skin lapstrake construction. The low-maintenance Nisqually, a capable rower, sailer, and powerboat, is a true multipurpose dinghy."
– Cruising World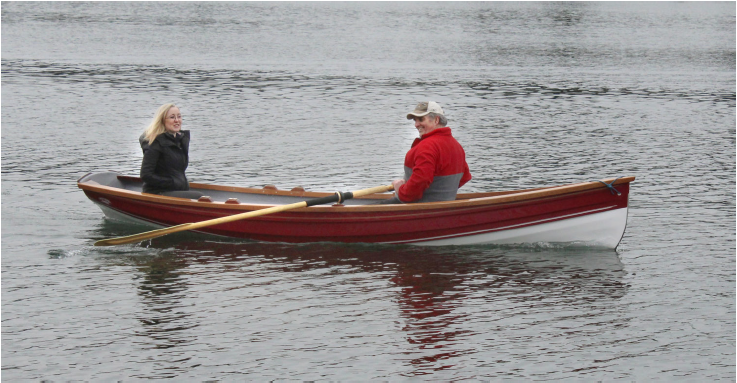 "I maintained a GPS-measured 4 knots at a relaxed pace, 4.7 knots at an aerobic-exercise effort, and hit 5 knots in a short sprint."
– Small Boats Magazine, Apr 2023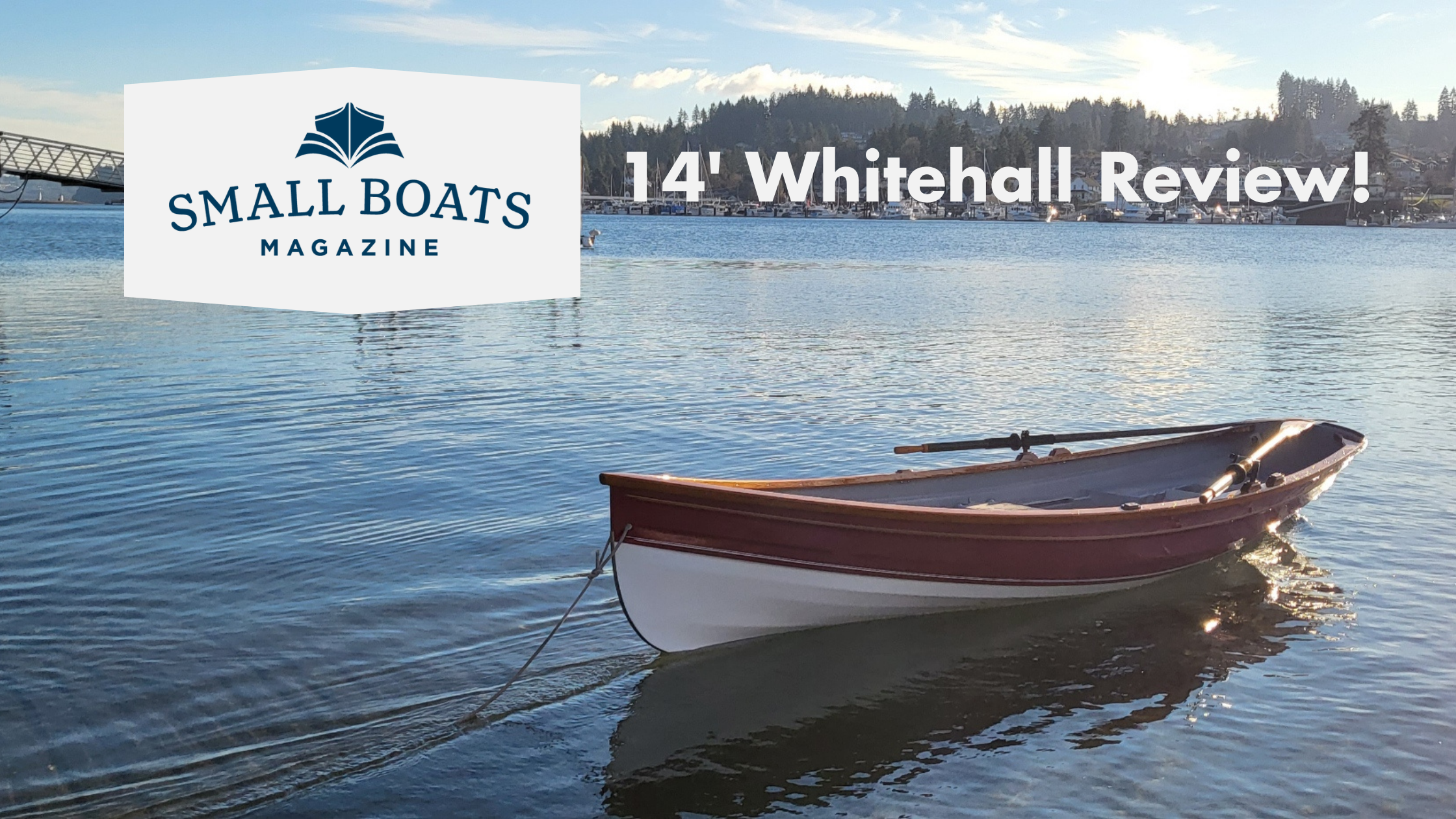 "I was impressed that the boat's 125 lbs was so easy to handle. Two adults should be able to lift and walk with the boat if that's required. . . .  a boat that can be launched from and reloaded on a trailer singlehandedly."
– Small Boats Magazine, April 2023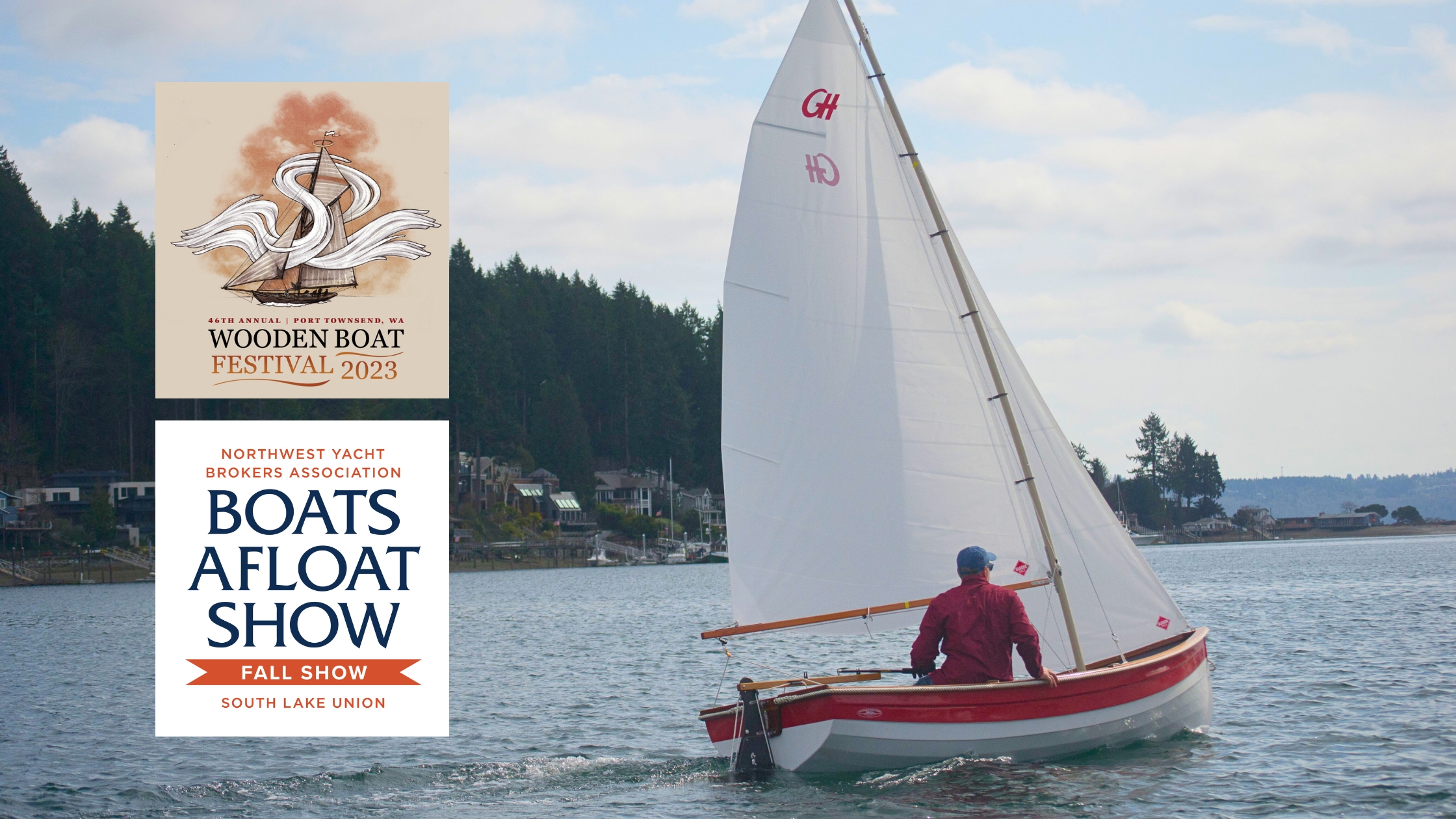 Boat Show specials… in September? YES! We're happy to announce that we'll be at not just one but TWO boat shows this month!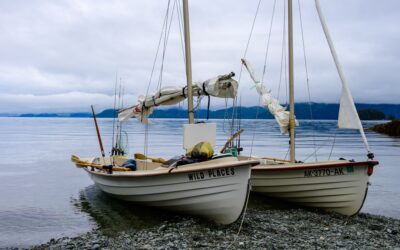 This summer's voyage marked the first time a Jersey Skiff and Salish Voyager have been seen together out in the wild.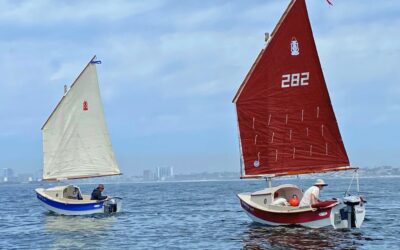 A nice look at how Jim E outfitted his Scamp for an overnight trip in Alamitos Bay, CA