Hi folks – Katie Malik here (General Manager, aka "The Boatbuilder's Daughter"), excited to bring you some big news. As a small-town, family-run small business with a small team of highly-skilled craftsmen, Gig Harbor Boat Works has historically been recognized as a regional boat manufacturer with a boutique, high-end custom product.
Since 1987, we've enjoyed a reputation as the Pacific Northwest's premier builder of fine rowboats, sailing dinghies, and dinghy "microcruisers". Gig Harbor Boat Works model line includes traditional rowboats and sailboats from 8 to 17 feet in length, handcrafted in lightweight, low-maintenance fiberglass composites. Our company's limited production capacity, and well-earned local reputation, meant that there was never a need to expand outside our regional market.
However, the best kept-secrets can't stay secrets forever.
In 2020, the pandemic shutdown changed everything.
The pandemic brought customers out of the woodwork. When people started looking for socially-distanced ways to get outside and get exercise, our small boats were a perfect fit. Within a matter of months, we were discovered across the country, and even around the world. By mid-2021, the waitlist stretched over a year long, and we faced a critical decision: keep doing what we've always done, or take the opportunity to expand to meet demand?
We decided to take advantage of the opportunity and step out of our comfort zone. Last year we put a huge effort into hiring and training more production staff, while maintaining the quality and attention to detail that we're known for. Over the course of 2022, we doubled our production pace, which got us through the big pandemic backlog, and now we have a much more reasonable 2-3 month wait time on new orders! (That's right, if you order a boat right now, you can take delivery by June!)

Building more boats means shipping more boats
The other big hurdle of Gig Harbor Boat Works' national discovery was figuring out a good way to get our boats from Gig Harbor to our customers' beaches and boathouses in far-flung corners of the country. You may have seen our previous blog post about how we shipped our boats until recently, via DHL to a depot for pickup, where the customer had to go uncrate the boat and then transport it home. Shipping custom boats one at a time to different end-customers doesn't easily allow for economies of scale, so our shipping process was very ad-hoc, but workable. During last year's upheaval in the lumber and shipping industries though, it became prohibitively expensive for the vast majority of our customers.
So, off we went in search of a better, more affordable way to get our boats to customers across the country.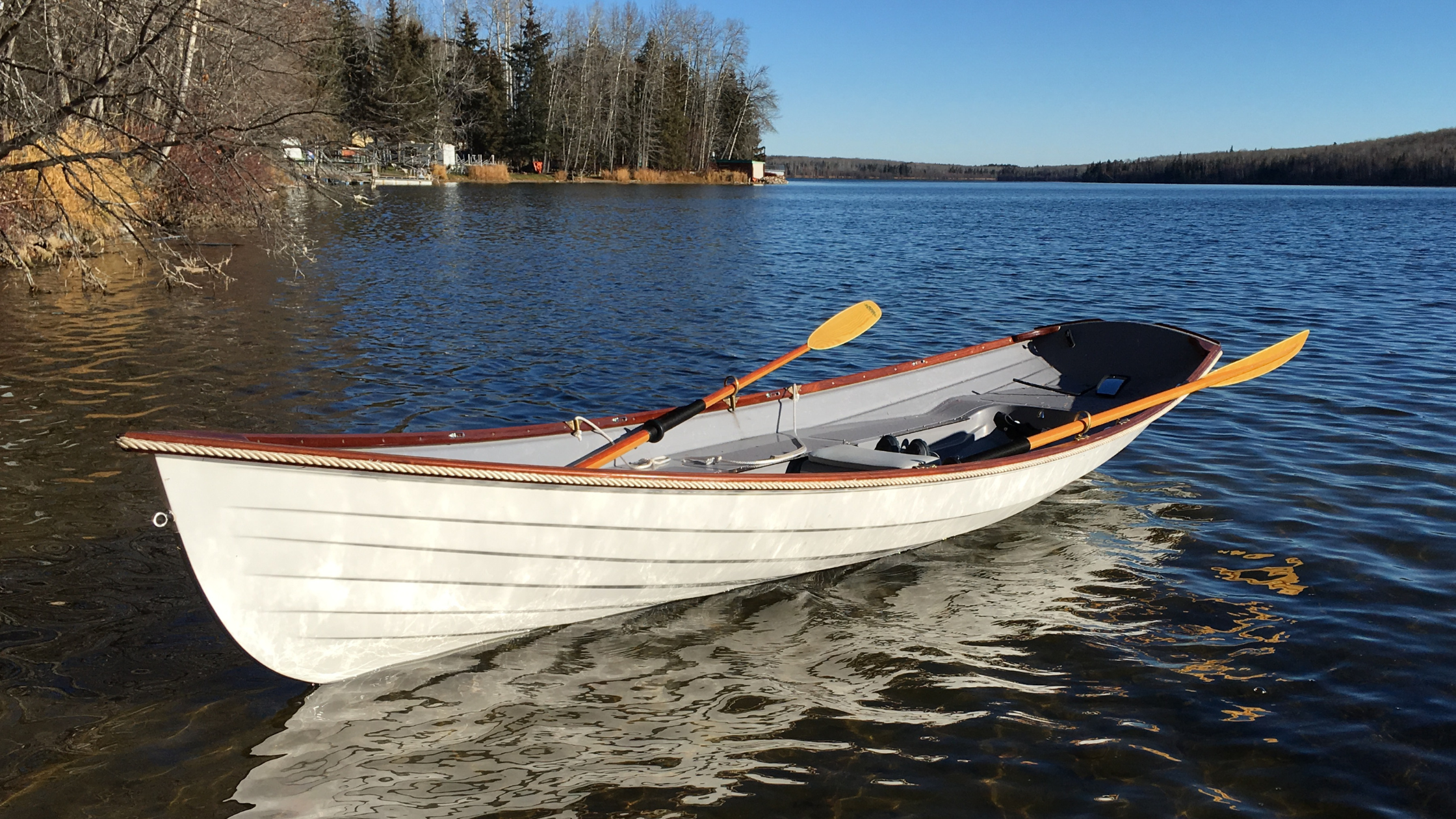 Drumroll please…Curbside Delivery is now available in the contiguous US!
I am thrilled to inform you that we can now deliver boats curbside to your home, marina, or delivery location of your choice! Plus, we found a freight partner that allows us to shop rates from different carriers, and create quotes on demand without the multi-day turnaround time we had before. We're delighted that this solution appears to offer both better prices and better service levels than we've been able to offer in the past. It's a win-win.
Curbside shipping is available on our boat models 14′ and under. The smaller boats (10′ and under) are secured in a cardboard-lumber hybrid crate that is less expensive than a full lumber crate, yet still protects the boat well during shipping. For now, our 12-14′ dinghies are still shipped in full lumber crates, but we may be able to ship those in the hybrid crates in the future once we're confident that they protect the boats during long-haul shipping.
Note: For larger boats over 14′ long, curbside delivery can sometimes be possible but it requires a custom quote, since it varies case by case. Even if curbside isn't an option, we can arrange transport with a flatbed driver to your home, or go the old ship-to-depot DHL route.
Protecting the boat during transport is paramount
Nobody wants to see their brand-new boat baby arrive damaged. We have never had to make an insurance claim on a boat shipped in a proper crate.
While shipments are insured, since we are custom-building every boat to order, it's not like our customers simply walk into a local store and buy another one off the shelf. If we have to rebuild a boat because of shipping damage, not only does it delay the customer's opportunity to use their boat, but it also bumps down everybody else on the waitlist.
When your cargo is this valuable (both financially and sentimentally), we strongly believe that good-quality crates are an absolute must.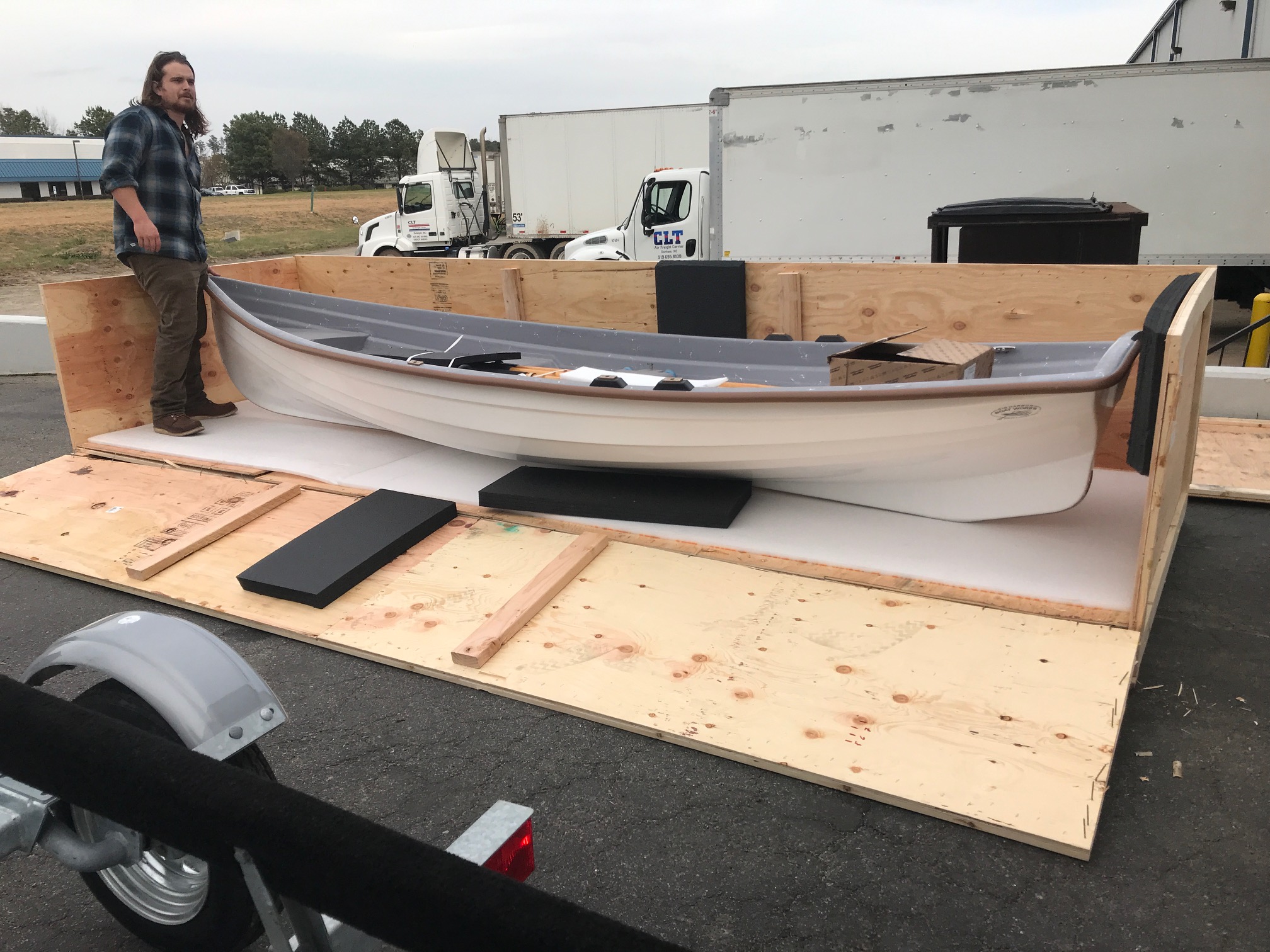 To ship or not to ship? That is the question…
Nowadays, people are accustomed to getting free shipping on everyday items, due to the "Amazon-Prime effect." But there's really no such thing as "free shipping"– the customer just ends up paying an inflated price for the product itself.
While Gig Harbor Boat Works shipping isn't free, we charge no markup on our shipping costs. What we pay is what the customer pays. Full stop.
Rather than charge all of our customers higher prices to cover shipping they may not need, Gig Harbor Boat Works chooses to keep our base products affordable, so that they can be accessible to more people.
All that said, if someone from back East would rather pick their new boat up themselves and use the money to get a road trip out of the deal rather than paying to ship it, we're all for it. (Case in point, last summer a couple drove out all the way from Saskatchewan to pick up their new 17′ Salish Voyager!)
So what are you waiting for? We're ready and waiting to build your new boat. Contact us here and let's see about getting you a new boat to enjoy this summer!