Which one of your boats is right for me?
Why aren't you folks like other boat salesmen?
---
Which one of your boats is right for me?
The answer lies in asking how, and where, you will be using the boat. Each of these boats were designed as a workboat for a specific job; although they will all row, sail, and motor, the hull shapes are different and each model will be best for certain tasks. Analyze what your priorities are. What is the main purpose of your boat? How often will you row, motor, and sail? What sea conditions and passenger loads can you expect? After answering these questions, compare your needs to the intent of the original boat design.
Note that we break down the performance potential into three categories; Rowing, sailing and motor. These percentages reflect how each hull shape was primarily used in the days of working sail. However, that doesn't necessarily mean that a boat designed primarily as a sailor could not have a happy life as a pure rowboat. This is just a basic guideline with a lot of nuances so ask if you want to go into more detail.
Original Boat Design: The background and best-suited use for each of our models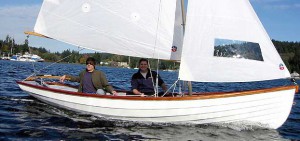 The Jersey Skiff is an immensely capable, do-it-all boat, originally designed in the mid-1800's for rescue and salvage operations along the East Coast. The Jersey Skiff was built to be rowed through the shore break, sailed in bad weather out to a crash site, loaded up and sailed back, and finally rowed in past the breakwater and dragged up onto the beach.
Sounds like everything you need in a day-sailer, right? We think so, too.
The Skiff holds up to four adults, can be outfitted with up to three rowing stations (two adults can row abreast, as well – one on an oar) and has plenty of room for camping gear, crab pots, trophy fish, or all of the above. There is enough clearance under the boom that it can be rowed with the mast stepped when the wind dies.
The Skiff has a fine bow and full stern quarters that makes a very dry sailing boat, especially with the deck option. It rows with the dynamics of a Whitehall and is spirited under sail. The transom can be outfitted to accommodate up to a 4hp motor.
Trying to decide between the Jersey Skiff and the Lobster boat? If you want a boat that rows and sails easier, pick the Jersey Skiff. If you want a boat that is faster with a motor, pick the Lobster boat.
Summary: Stunning, classic lines, fast and forgiving under sail, plenty of room, and a joy to row. . . the ultimate day-sailer.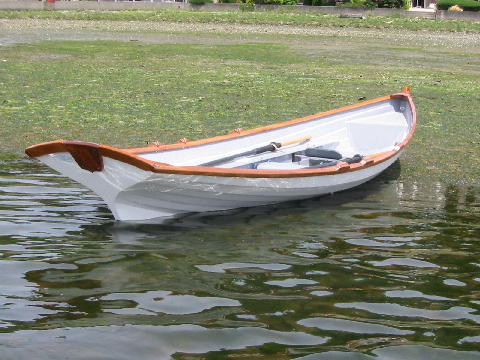 For several years we have been receiving requests for a boat that rows as well as our 14′ Whitehall and is just as attractive, but that has more capacity and is still blazingly fast. People have also requested the ability to row tandem with sliding seats — so they can row together without worrying about clashing oars or keeping a delicate balance. Seaworthiness for long open water adventures is also desirable.
The original Melonseed was developed for sportsmen in New Jersey, who wished to venture from the salt marshes out onto Barnaget and Manahawkin Bay's. That boat was about 14 ft long and had a nearly full deck and very little freeboard. Our Melonseed is longer, and has an extra board on the sheer, and has no deck — making it much easier to row while retaining its sea kindliness. The extra length allows us to install two sliding seats instead of just one (as on our 14′ Whitehall). The box keel tracks very well, but not quite as strongly as that of a comparable-length Whitehall. Users navigating through a marina or along a shoreline will appreciate that it turns a degree more easily.
The heart-shaped transom can accommodate up to a 3hp long shaft motor.
We also build the decked Melonseed in a pure rowing version with no daggerboard trunk as an 'expedition rowboat' for those folks with ambition for extreme rowing exploration. You can read about the Oar Northwest Olympics expedition in one of these boats in our September 2008 Newsletter.
Summary: Beautiful lines, fast with dual sliding seat rowing stations, an excellent source of full body exercise, a great boat for larger inland lakes and harbors.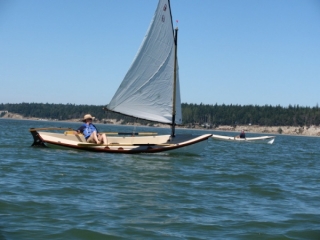 After introducing our Melonseed rowboat we immediately began to receive requests for a sailing version that retained the capability for solo or tandem slide seat rowing. That is a difficult task in a small boat because typically the mast placement is located where the forward rower sits, preventing a movable seat. The solution to that lay with the clever original oystermen who used a single mast placed far forward leaving the interior of the boat unobstructed. The rig is called a 'Balanced Lug' which is forgiving, simple to rig and a fine performer. We then decked over the interior resulting in a buoyant, safe, fast and versatile boat. It can be rowed either single or tandem with fixed or slide seat, sails like a bandit and has stunning appearance. This is as close as you can get to the perfect ( no compromise) boat for rowing or sailing. The caveat is that it is the equivalent of a sports car on the water; fast with great handling but best with one or two people aboard. If you need a similar hull with more capacity look to the 'SUV of the water' the Jersey Skiff.
Summary: The best of both worlds for a combination rowing and sailing boat.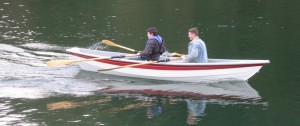 16′ New England (Swampscott) Dory: 90% row, 10% motor
Originally used for commercial fishing in offshore and surf conditions, the long bow and stern overhangs furnish the desired lift for travel over waves. In surf you do not want the boat to be affected by turbulence so the keel is eliminated; yet it still tracks reasonably well. John Gardner has this to say about Swampscott dories: "These boats are the aristocrats of the dory clan, and are not to be confused with their clumsier, more crudely built cousins, the heavy, slab-sided working dories of the Grand Banks fishermen. Swampscott dories row and handle so much easier than the Banks model. Their marked superiority over the Banks model for recreational use lies in their greater ease of handling. In normal conditions a youngster could manage the boat easily, but he definitely could not handle a banks dory of the same size." – "Building classic Small Craft Vol. 1" pp.85-86
The Swampscott Dory's original design reflected the need to have a shape that could nest several hulls together for transport 50 miles offshore to the fishing grounds on a schooner's deck. This dory was also shaped to take advantage of the cheap, wide wood planks available at the time. Yes, the Swampscott is a superior evolution of the Banks Dory yet still requires careful seamanship. They were and are extremely seaworthy in the hands of people who grew up knowing how to handle them. When lightly loaded the Swampscott Dory heels very quickly; by modern standards many people are very uncomfortable in a Dory. So if you are a long time seaman you'll probably really like it…. But our customer feedback during the 1990's when the Swampscott Dory was a flagship led us to develop friendlier boats like the Melonseed and Jersey Skiff.
Though we did at one time offer the Dory in a sailing configuration we have found that its tenderness under sail makes the Dory suited only for highly-skilled sailors. We believe that most customers looking for a sailing boat in this size range would be better suited in the 17′ Jersey Skiff.
The fine stern will accommodates up to a 2hp long shaft motor.
Summary: With its powerful dynamics in the water, ease of rowing, and high carrying capacity the Dory makes an excellent fishing or crabbing boat in the hands of an experienced operator.

Developed in the 1930's, this boat was used for lobster fishing in Maine, where regulations stated that motor-power could be used to reach remote locations, but only oars or sail were legal for use in harvesting the lobster pots. Also, this was during the Great Depression, when people needed an inexpensive versatile boat was needed that could serve both utility and recreational purposes. This is a powerful sailboat that also functions well with an outboard, attaining planing speeds of around 20 mph with a 10 hp motor (a very rare combination.) The stern has enough buoyancy to support a motor without squatting. When sailing, the motor is removed, which allows the stern to rise, reducing drag and allowing the hull to slide through the water. Rowing in flat water is easy but because of weight and windage, it is more work than in the Dory or Whitehall.
The lobster boat is an ideal boat for a cabin or campsite on the lake. With the outboard motor you can get up early in the morning grab the kids and your buddy and motor to your favorite fishing spot. After lunch, pull the motor, and in a couple of minutes you can rig the boat to go for a sail. Later in the evening, when the thermal winds have died down, you can put away the sailing rig and bring out the oars for an after-dinner sunset row.
There is no other boat on the market that we know of which sails, rows, and still planes with a small outboard motor. Can't decide between the Lobster boat and the Jersey Skiff? If you want a boat that planes with an outboard, this is your boat.
Summary: Safe, stable and forgiving, with a planing hull for excellent speed under motor, the Lobster Boat is a great family daysailer or workboat.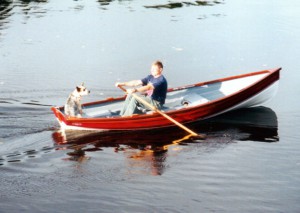 14′ Whitehall: 60% row, 30% sail, 10% motor
Designed in the 1830's as a for-hire water taxi, the Whitehall is the pinnacle of working rowboat design for harbor use. The long keel and fine ends have flawless hydrodynamics for speed, efficiency, and tracking. Our version of the Whitehall has surprising initial stability because of the hard chine and relatively wide beam at the waterline. It also sails well, being fast and responsive but because of the long keel it does not maneuver quickly.
For those individuals looking for low impact outdoor exercise we offer a sliding seat option. The benefits of sliding seat rowing exercise are well known. With the sliding seat motion the whole body is exercised not just the back and arm muscles. The boat is considerably more stable and sea-kindly than a rowing shell. Our sliding seat also locks in place when you are through with it and ready to return the boat to its traditional roots. Our Whitehall is equipped standard with three oarlock locations; A center position for correct balance when solo plus fore / aft positions for correct spacing and balance tandem.
This boat can carry up to four adults for rowing. A maximum of two adults and one child is better for sailing, so that everyone can sit comfortably.
Trying to decide between the Whitehall and the Melonseed? If you want a boat that handles rough water with ease pick the Melonseed. The 14' Whitehall has one slide seat and can row two people tandem fixed seat. The Melonseed can ordered with tandem slide seat configuration. The Whitehall and Melonseed both track beautifully.
The recommended motor is 2 hp or less.
Summary: The Whitehall is the ultimate rowboat for exercise and pleasure, especially with the sliding seat option.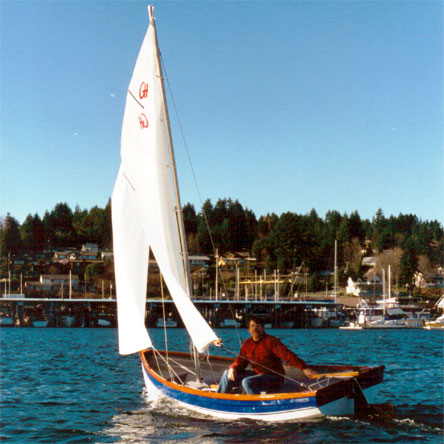 12′ Point Defiance: 35% sail, 35% row, 30% motor
Originally built in the 1890s as a utility rental, this boat had to be versatile and forgiving. It does not have to be extremely fast but must be easy to row, not requiring much effort to move and keep going in a straight line. Also required are a high carrying capacity in relation to length and high freeboard for safety. This is a very enjoyable boat to row single or tandem, and because of her forgiving nature, she is also an enjoyable boat to sail. Although it will easily carry 4 people, sailing is best with one or two; not because of weight carrying capacity but realistically – where will you fit all the arms and legs? Twelve feet is a transition size between "dinghy" and "boat"; too big to considered just a dinghy and too small to be a boat. The transom of the Point Defiance is a "double ended" shape at the waterline for rowing and has full stern quarters for buoyancy with a motor. It is a displacement hull so it will not plane. 2 to 4 hp motors are recommended.
Summary: The Point Defiance is good for family recreation or as a yacht tender for larger yachts. It can be car topped, fitting on a standard roof rack.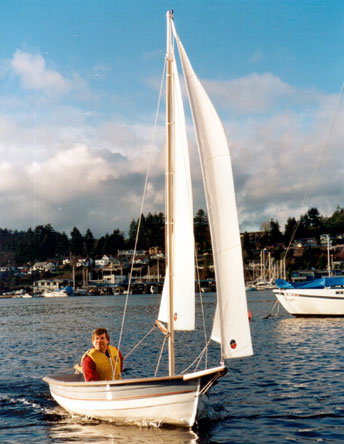 10′ Navigator: 40% sail, 40% row, 20% motor
The 10′ Navigator is a pure flowing displacement rowing/sailing hull with equal distribution of buoyancy fore and aft. This shape is perfect for speed and agility, both rowing and sailing, within this 10′ length. It is used primarily as a yacht tender for sailing yachts because of its light weight, low resistance under tow, and pure design. It is also an excellent personal sailboat: exciting to sail with the optional bowsprit and jib, and yet it still balances perfectly under mainsail alone. It can also be used as a child's trainer that won't be outgrown.
Summary: A wonderful little sailboat that is also a very capable yacht tender.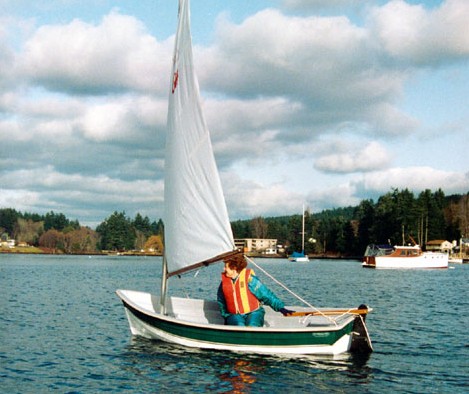 During the mid 90's we started receiving many requests for tenders for power yachts due to increased interest in traditional yachts such as Nordic Tugs, Grand Banks, and Trawler designs. Customers wanted a spirited tender with flowing lines that would complement the yacht. It had to be fun to row and sail, be able to accommodate a small motor, and have more stability than a typical round bottom dinghy-a tough assignment!
We gave the Gig a broad wineglass transom that slips easily through the water, yet builds stability rapidly when the boat starts to heel. The result is an attractive, forgiving dinghy suitable for a variety of uses.
Summary: A wonderful yacht tender that is also a very capable little sailboat.

8′ Nisqually: 30% sail, 40% row, 30% motor
Occasionally space limitations dictate the use of a very small tender. A mere eight-foot length will require some compromises in legroom, but our Nisqually (derived from the Point Defiance) is surprisingly competent. The full lines allow it to carry 400+ pounds while retaining the ability to sail, row, and motor.
Summary: A lot of heart in a small package.
---
What size should I get?
Some obvious parameters are the storage area for the boat, the number of people who will be in the boat and the sea conditions where it will be used. We build the 8′ boat primarily for those situations where there is extremely limited storage. However, the carrying capacity, buoyancy, and speed increase at a ratio equal to the square root of the water line length. A bigger boat will move more easily through the water than a shorter boat therefore has greater efficiency. Many people confuse small size with manageability but there is an inverse ratio beyond a certain point. Our advice is to get the largest boat you can comfortably handle.
---
What about a boat for a RAID?
We recommend that you consider our Jersey Skiff. The top speed of a displacement boat is directly related to the length of the hull. RAID's typically require you to carry all of your gear aboard, plus an extra oar. The Jersey Skiff has the most room, and the longest waterline of our sailing/rowing boats. One of our customers did take a sailing version of our 16′ New England Dory on the Shipyard Raid in 2005. He did reasonably well in mixed conditions. You can read all about it in our November 2005 Newsletter. RAID's in North America are a relatively new way to have fun on the water and we are watching them closely. If you are intending on RAID'ing be sure to mention it and we can help outfit you to have fun.
---
Why aren't you folks like other boat salesmen?
Back in another life, Dave tried the professional salesman career — and was a hopeless case. Dave just couldn't get excited about selling something he didn't really care about. Even worse with Dave's natural human fear of rejection, he took it personally when someone didn't want his product. And he couldn't seem to make himself close a sale, when he sensed that the customer really wanted or needed an item other than what he had to sell. Here at Gig Harbor Boat Works we insist that everyone who represents us NEVER try to push a sale. It is up to the customer to say, "O.K., how do I get on the list to purchase one of your craft?" We won't force the question. Now (no B.S. here!) as the business has developed we have come to think of ourselves as a Small Craft Advisors, not boat salesmen. We developed all these craft so we could offer the best boat for a given purpose. If the boats we build are not what the customer really needs, we will gladly give them the contact information and send them to the source for the correct boat for their particular use. Gradually, over the past 25 years, we seem to have become something of an authority on small craft design. Most folks don't have the time or inclination to research the true design parameters of small craft so they purchase a boat on a whim based on their imagination or the way the boat looks. Sometimes that works well, but as time passes, they find that their vision and the boat's reality collide. With more knowledge about the small differences in hull shape, they would have selected a boat better suited to their needs. After building and selling around 3,000 boats we have heard lots of stories and received a lot of testimonials. We sure like to hear the happy ones and we find that the majority of unhappy ones are usually the result of the customer having made a poor choice somewhere along the decision process. We don't give advice to try and sell a particular boat that we might want to build; instead, our advice is a sincere effort to make the customer's experience a good one for the long term. Many times we will recommend a less-expensive boat than the one the customer originally lusted for, if it's a better fit for the intended use.
---
Still can't decide? Contact us, and lets talk some more about what you want to do with your boat. We have over 25 years experience building and using these boats. We want you to have the right boat for you.