Named after the Salish Sea it was designed to explore, the Salish Voyager is a unique vessel truly made for adventure.
Smooth sailing. Ample dry storage. Optional tandem rowing seats.
As long-distance rowing and sailing has become more popular in recent years, we've started receiving a lot of requests for a truly expedition-worthy sailboat with tandem sliding rowing seats. Our Jersey Skiff and Melonseed are already two standouts, and now we've blended the two together into one epically capable small craft.
Starting with the fast, forgiving and capable Jersey Skiff hull, we've created a new interior that supports a Lug rig as we use with the Melonseed for ease of assembly and forgiving sail attributes. Of equal importance, the lug rig's forward mast location opens up the interior to create a long footwell for tandem sliding seats. This new boat also has enclosed storage for increased stability, seaworthiness and utility. We also designed it with a self-bailing floor, so in rough seas or heavy rain you can focus your attention on sailing rather than bailing! Long and short of it is, we think think the Salish Voyager will really answer the call for a reasonably priced 'do everything well' human- and sail-powered vessel.
Small Craft Advisor Magazine's Review
"They say the best boat is one you actually use, and the easy trailering, rigging and launching, and especially the versatility of the Voyager, ought to get you on the water regularly. And when it comes time for a real sail-and-oar adventure cruise, you and your crew can load the lockers with gear and rations, check the tidal currents, and shove-off having left the outboard engine and every other unpleasant thing behind."

– Small Craft Advisor Magazine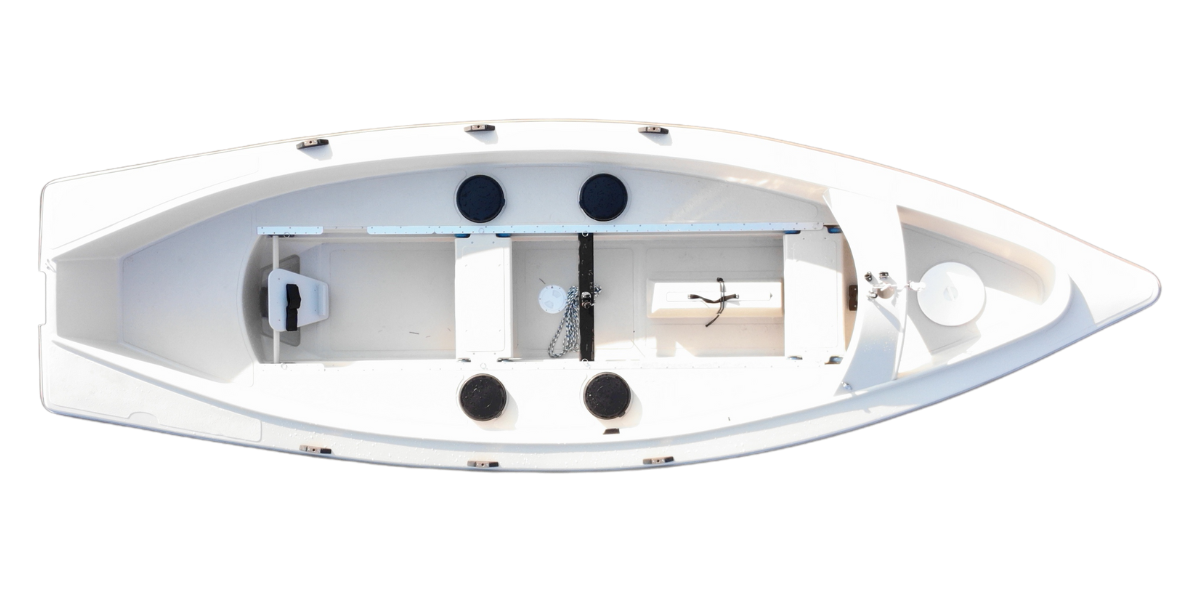 Salish Voyager Full Specifications
LOA:
 16'11"
BEAM:
 67″
DISPLACEMENT:
 440 lbs
(Displacement shown is fiberglass, kevlar is unavailable in this model)
SAIL AREA:
 100 sq ft
Model-Specific Options:

Tandem sliding seats (one comes standard)
Storage hatches (port and starboard)
Front hatch
Floor hatch
Imagining your ideal boat?
Take a turn through our online quote creator to see the possibilities! No haggling, no commitment.