By popular request, Fredrik and Nancy shared their thoughts with us about sleeping aboard the Salish Voyager. Though it wasn't perfect for their Alaskan environment, with a little experimentation and practice they were able to accomplish the task and enjoy a good night's sleep.
In a previous blog we mentioned a "somewhat successful" night spent sleeping aboard our Salish Voyager. Some of you asked to know more, especially about how we set it up to sleep two people. (For a one-person rowboat setup, check out Ken Poskitt's trip to Alaska in a 14' Whitehall.). Frankly, we were interested in learning how to make camping aboard a better experience as well.
So, when we were in our winter home on the bay in the middle of our big journey last winter, we took the time to experiment and document the method for you all. Before our trip we had discussed cutting boards to bridge the space between the side benches to make a bed, but decided we didn't have the storage space to bring extra pieces. We considered sewing a tarpaulin that could be stretched tightly between the two side seats, but we failed to create it before we took off.
Rather than try to explain it all in writing, we've provided photos along with captions that show the steps of what we did (and the results we got). Click the photos below to enlarge as we "show and tell" you around our setup.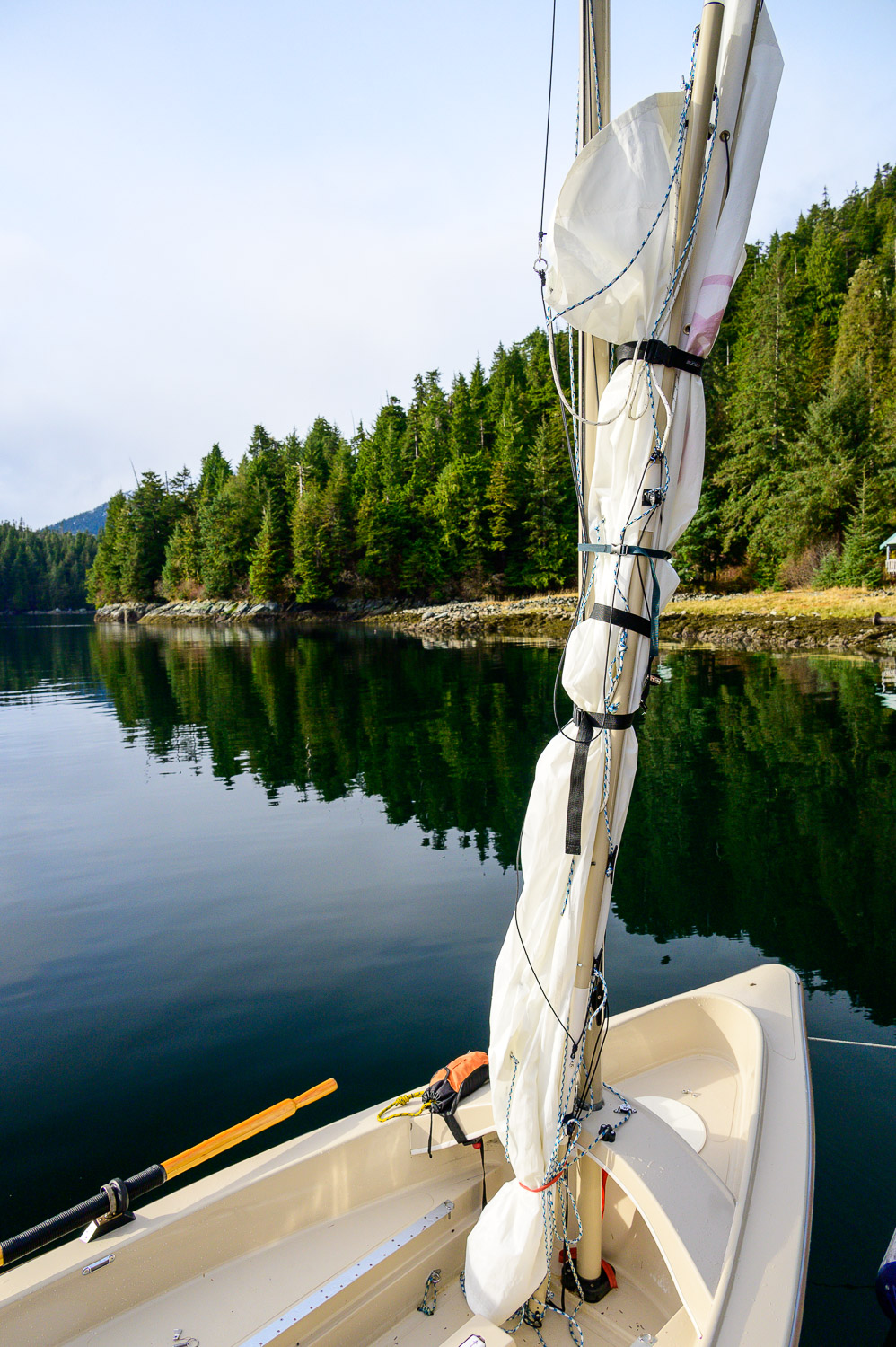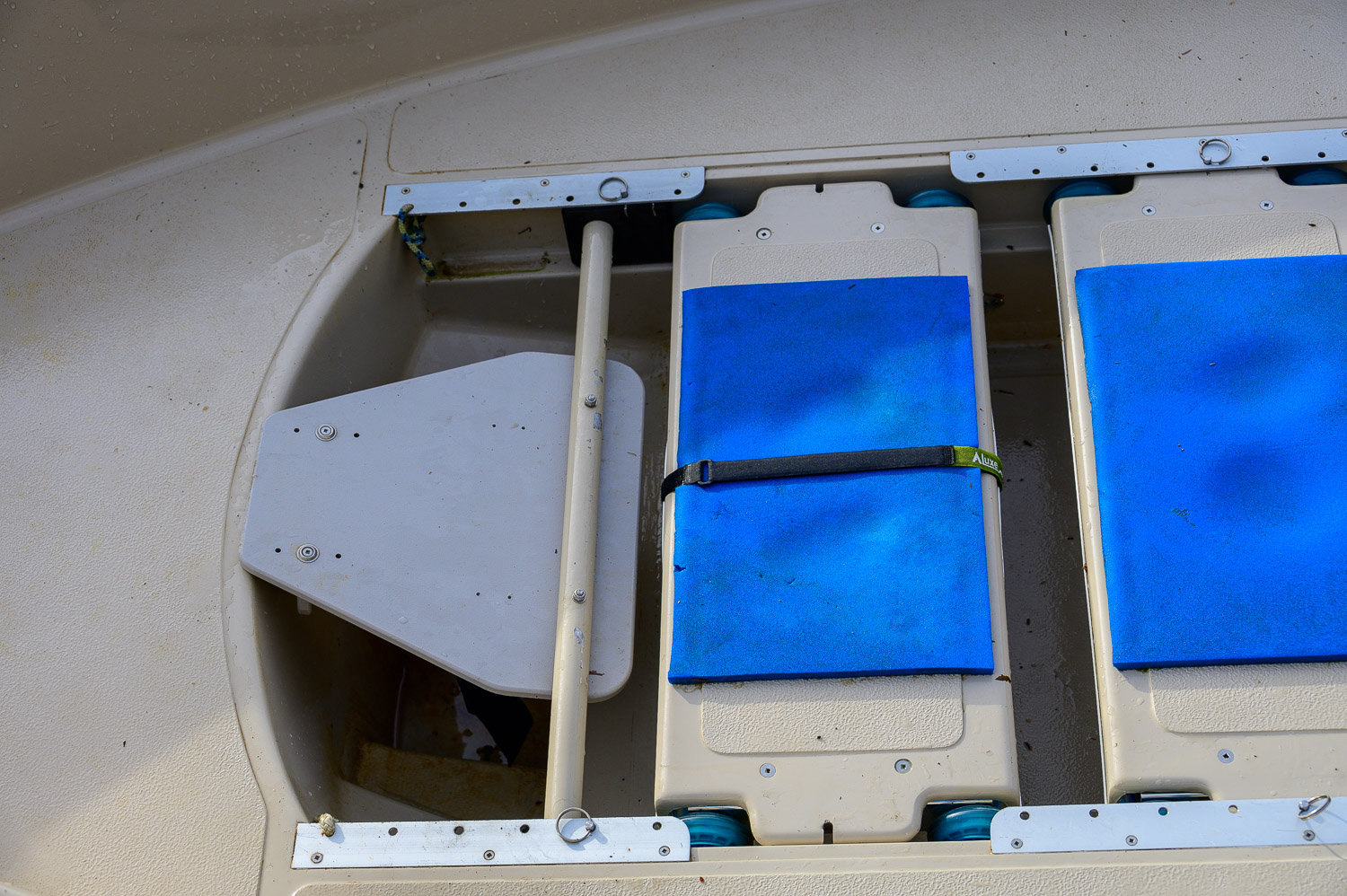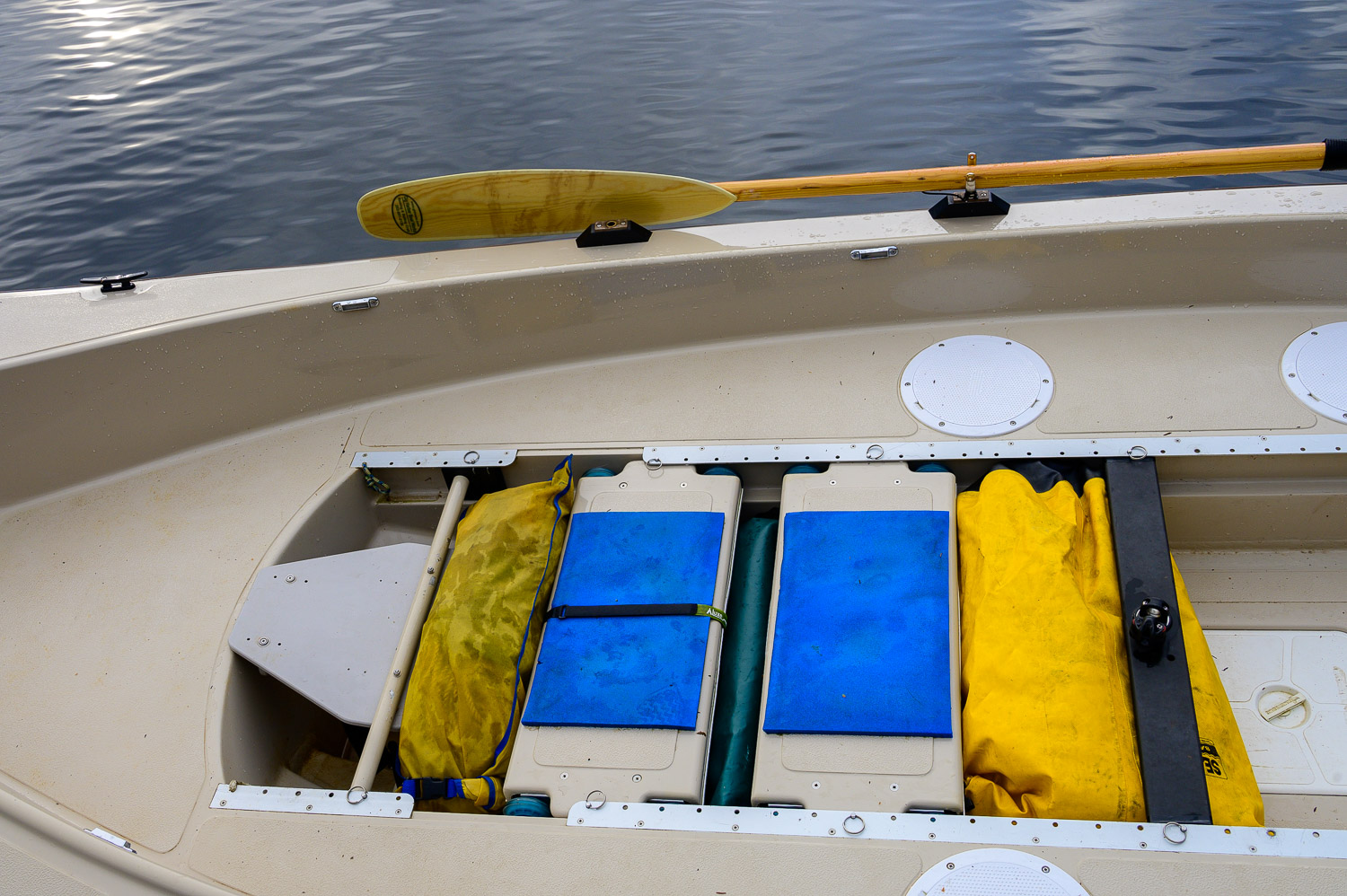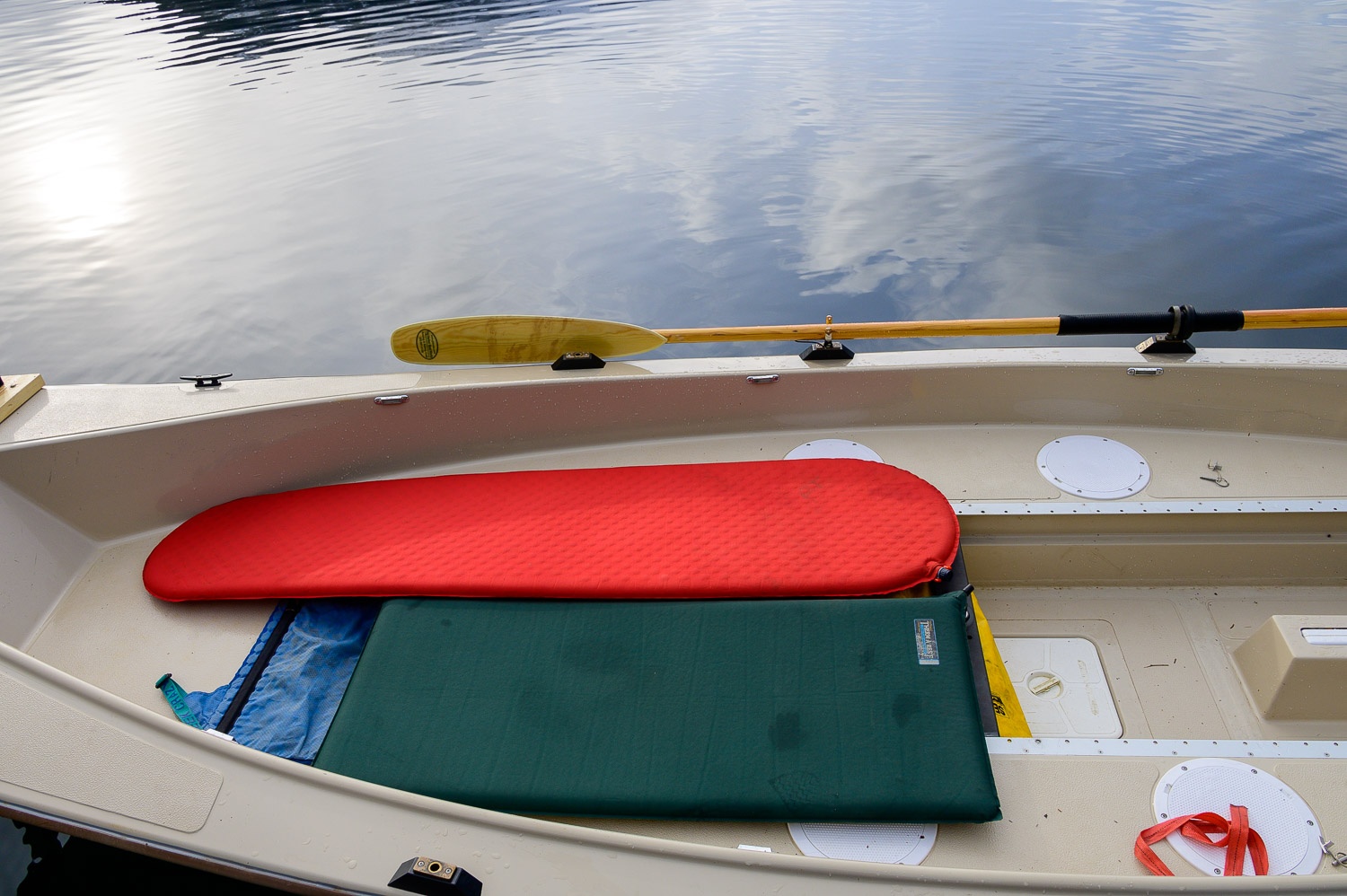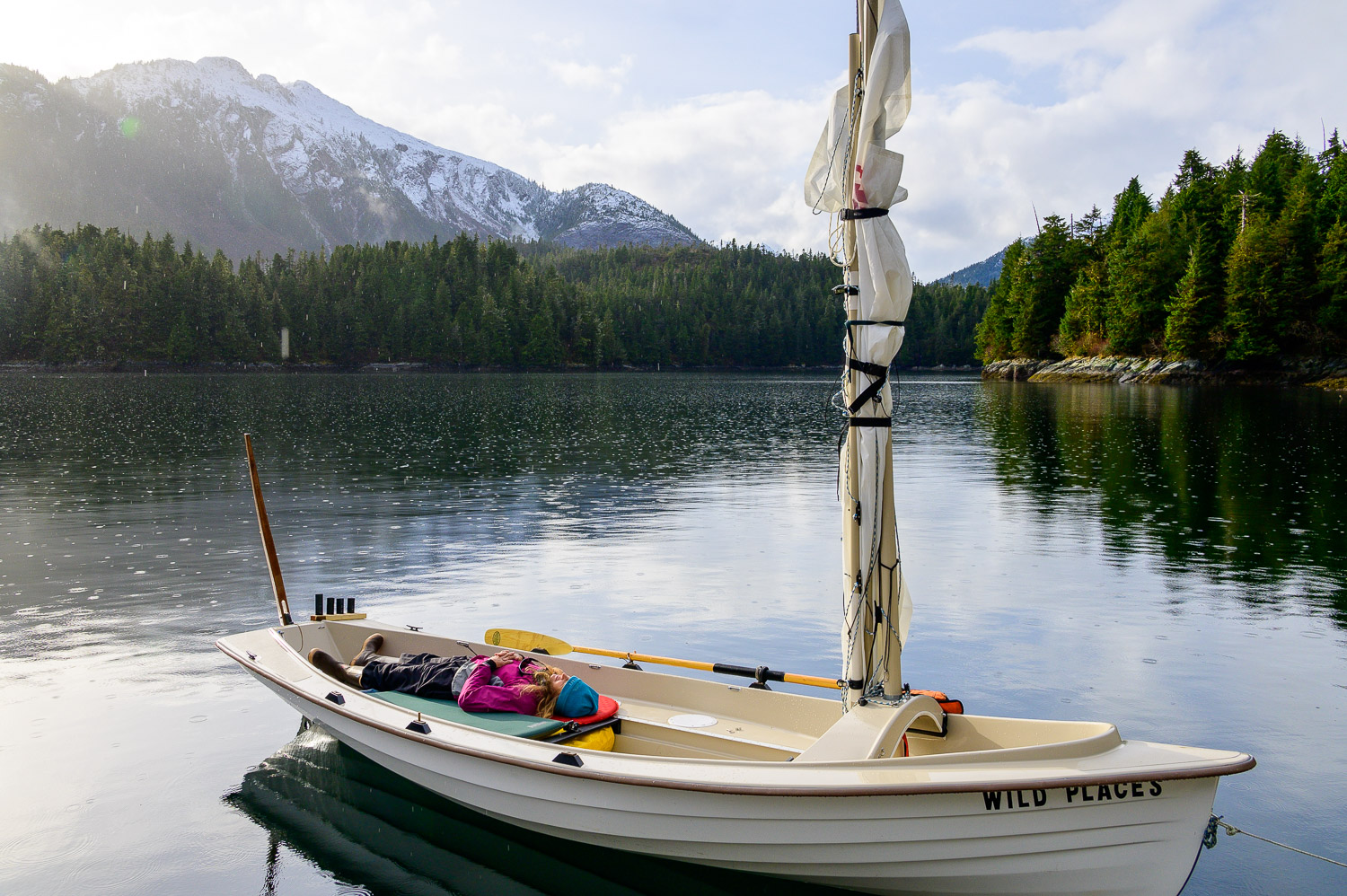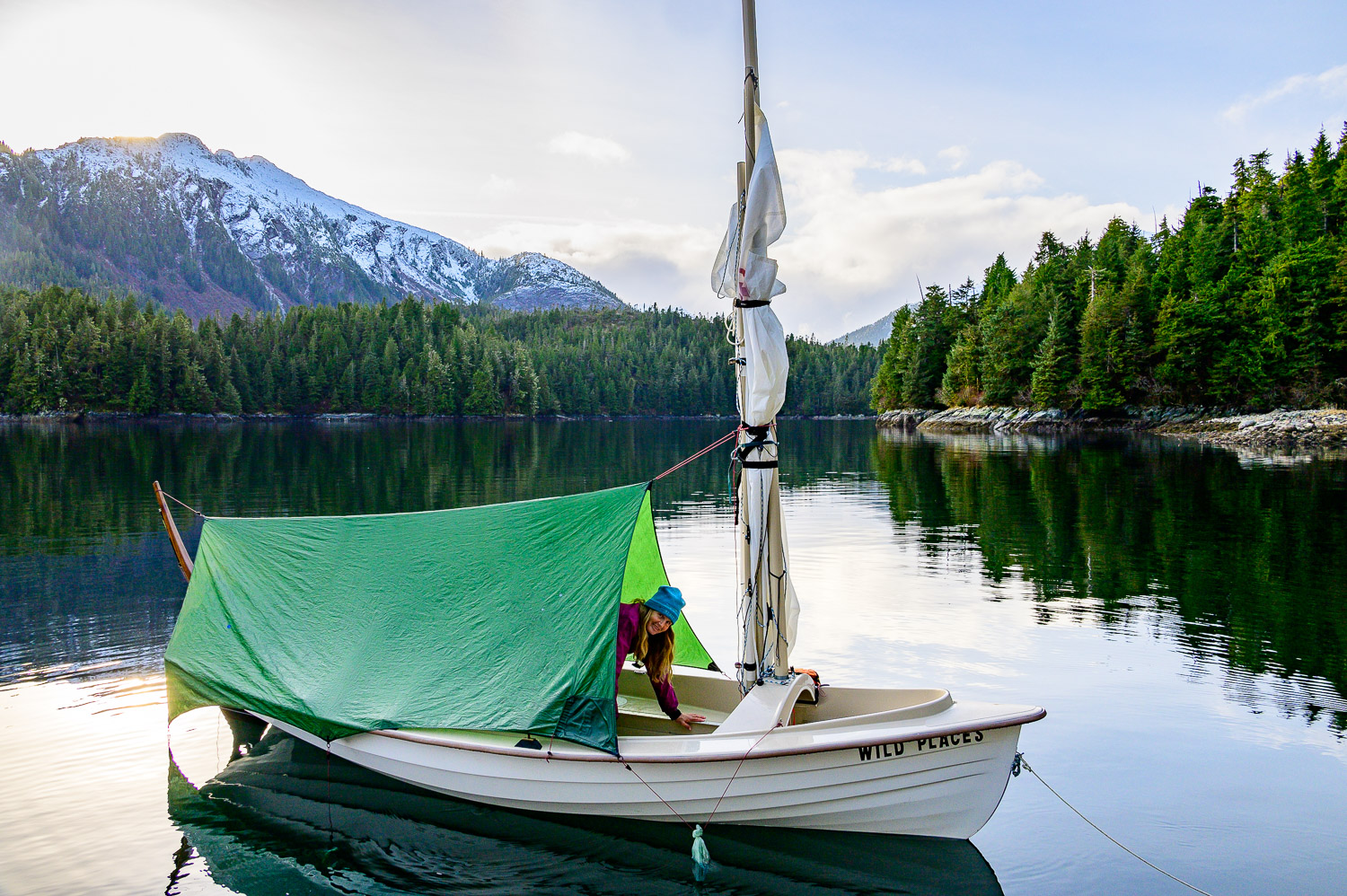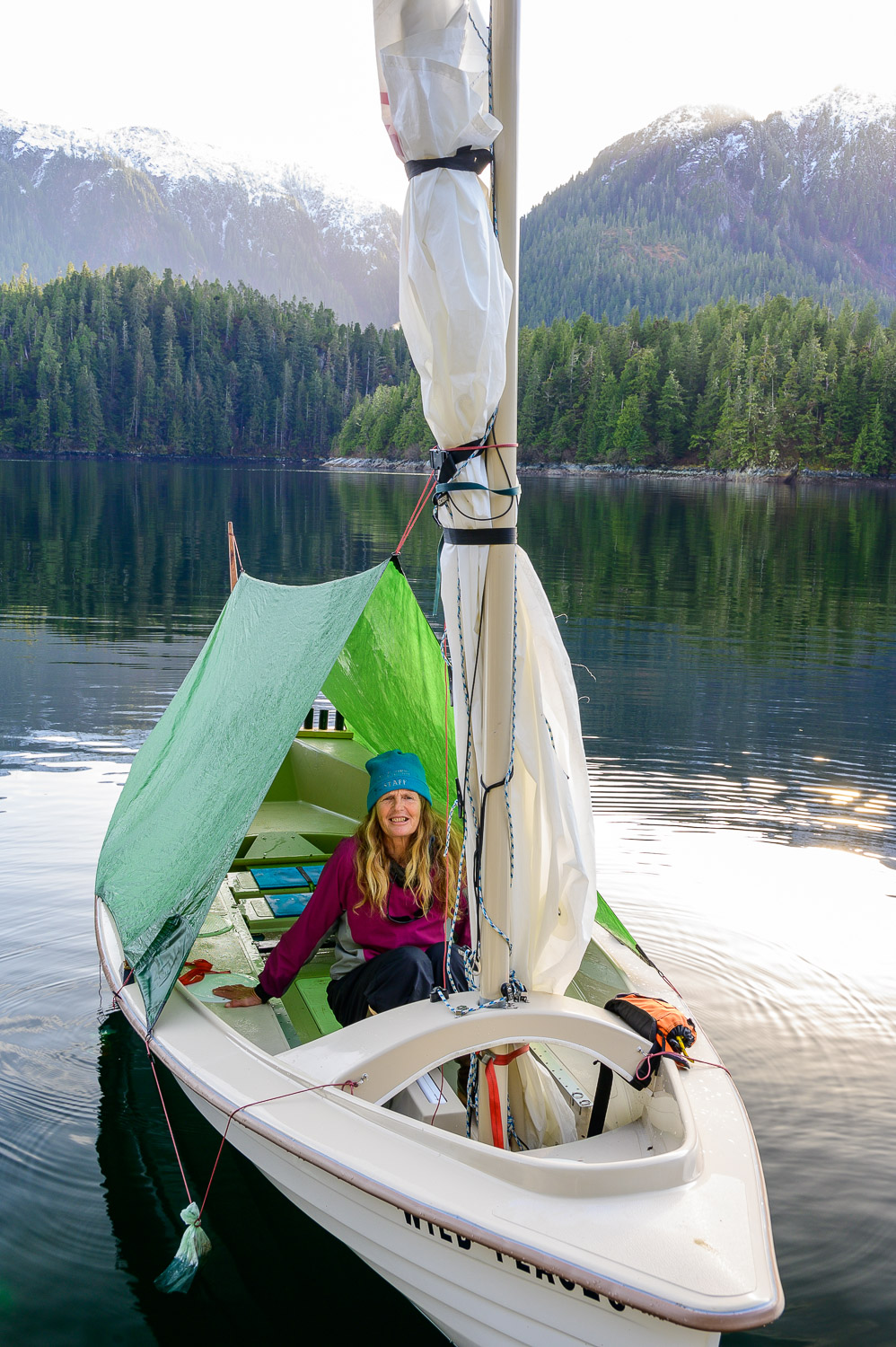 Pro Tips:
1) Lift the Boom
Because of the lazy jacks, we couldn't make a tent by simply throwing a tarp over the boom, as sailors have done for generations. We ended up lifting the boom, and strapping it to the mast with the straps we use to bundle the sail. We also occasionally do this to get the boom out of the way for fishing. This does raise the center of gravity a bit. Our boat is usually heavily loaded, which helps with stability, but we only use this method in calm conditions.
2) Create More Space
Next we moved both seats to the stern of the boat and flipped the foot brace upside down.
3) Use What You Have
We used our gear bags to fill the spaces between the seats.
4) Build a Platform
Then we threw a crazy creak chair and our camping mattresses on the platform.
5) A Surprisingly Comfortable Bed
The result was a surprisingly comfortable bed. Fredrik is 6'1".  I am 5'8". This system works fine for clear, dry conditions. Think camping in Baja! However, even on a clear night in Alaska, we got pretty soaked with dew.
6) Experimentation Encouraged
We decided to experiment with rigging a shelter, using a 11.5' x 9.5' Hilleberg tarp. In order to drain the rain, the fly needed to go outside—not inside—the boat. We solved the issue by filling bags with rocks, tying them to the six tie off points for the tarp, and dropping them over board. The tarp's ridge line ran between the mast and the tiller. To keep the tiller from folding forward we tied it down to the rudder.
7) Practice Makes Perfect
In windy conditions, there would still be plenty of room for moisture to get into the sleeping area. With so much bulk above the waterline, I would prefer not to use this in windy conditions anyway. I am sure we will continue to modify our boat camping system next summer.
At least we have practiced setting the system up. Which is more than we had done last summer, when we found our selves in a pinch for a place to camp, that didn't already belong to the bears.