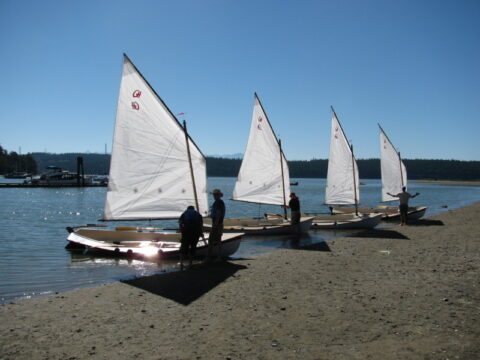 "Although she's built with modern technologies for contemporary pursuits, the Gig Harbor Melonseed benefits plenty from some older ideas."
In their March/April 2011 issue, Small Craft Advisor published a great feature on our 16′ Melonseed.  They joined us for our first ever Melonseed Regatta where they could talk with owners about their experiences. The weather even cooperated with a beautiful clear day for a sail, and we always enjoy visiting with the folks from SCA!
The article discusses the origins of the melonseed design, and how we arrived at incorporating it into our own model line:
"Having received many requests for a boat that rowed as well as their 14-foot Whitehall but had more capacity, Dave and company began researching historical designs and landed on the melon seed. That the melon seed was a close relative of the Jersey beach skiff was encouraging, as Gig Harbor Boat Works had already successfully adapted that design with their 17-foot Jersey Skiff model.

The Jersey skiff 's workboat history and load carrying requirements called for significant freeboard, but for a better pure rowing boat Robertson knew he'd rather not have the windage, extra weight or steeper oar angle, so his Melonseedwas designed with a similar underbodybut one less plank at the sheer. While the sailing model (released in 2008) features the same hull, it is built with sealed decks, which effectively increase the boat's freeboard.

Rowing performance has never been an afterthought for Gig Harbor Boat Works, whose innovative rowing seat system has been used by trans-Atlantic rowing race winners and other highly regarded ocean-crossing rowers. The Melonseed features Gig Harbor's unique system with eight large diameter wheels running on 16 stainless steel sealed ball bearings. The smooth, silent mechanism can be converted instantly to a fixed seat by dropping two stainless ball-lock pins into place. Gig Harbor also offers a clever and efficient forward facing rowing system."
And of course, there are a few flattering quotes that make us blush!
On sailing performance:
"Whether in morning light zephyrs or the breezier conditions later, the Melonseed impressed us with its performance and responsiveness."

"…she offered exciting sailing right down next to the water, but she also felt stable and didn't require exceptional athleticism to handle even during our races. In a word she was just like her rig: simple."

"The boat pointed well, never failed to come through a tack, and like most balanced lugs, jibed with equanimity."
On rowing performance:
"Rowing performance was, as expected, excellent. All of the owners we communicated with seemed overwhelmingly satisfied with performance under oar."
On trailering & launching:
"At a mere 195 pounds, the shallow draft Melonseed is as easy to trailer and launch as perhaps any boat we've reviewed."

"Rigging is also exceptionally easy."
On seaworthiness:
"More stable initially than a typical dinghy at the same length, the Melonseed isn't twitchy or overly sensitive to crew movement, and her pronounced sheer means her ends carry her up and over choppy seas."

"The sailing version of the Gig Harbor Melonseed scores a solid 125 on our SCA Seaworthiness Test."
On quality:
"Gig Harbor boats can be ordered with lots of wood and other details or in more of a low-maintenance workboat finish, but in either case the quality and workmanship are excellent."
On value:
"We think the Melonseed represents an excellent value. She's quite versatile, being a pleasurable sailboat, an exceptional rowboat, and being small enough to manhandle but large enough to bring crew, the dog, or a few crab pots along."
Aww gee, shucks!  Many thanks for the kind words, guys!
The full article includes a lot more photos as well as quotes from Melonseed owners. You can purchase a hard copy of the full issue from SCA here, or download a PDF of the full review here.