For several years now, we've been getting a lot of inquiries about a SCAMP bimini/camping cover. There are three main things that folks were after:
Privacy while camping in the boat (sleeping, changing clothes, etc).
Protection from wet weather on rainy days
Shade to get out of the sun on a hot day
We've tried a few different variations over the years, but have finally settled upon what we think strikes the balance between utility, privacy, and affordability. The Convertible cover gives you a fully private enclosure for sleeping aboard, and the side panels zip off independently so you can quickly and easily configure it for your current use. With all of the side panels zipped off, you get a nice bimini-style shade cover overhead with visibility on all sides.
When you want to get moving, the entire cover will either fold up nicely against the veranda where it doesn't interfere with the rigging, or it can be stowed below the cockpit coaming for a completely clean boat. Either way you can sail unobstructed. You don't get weather protection while underway, but hey, being outside in that roomy cockpit rather than a cabin is the appeal of the SCAMP in the first place, right?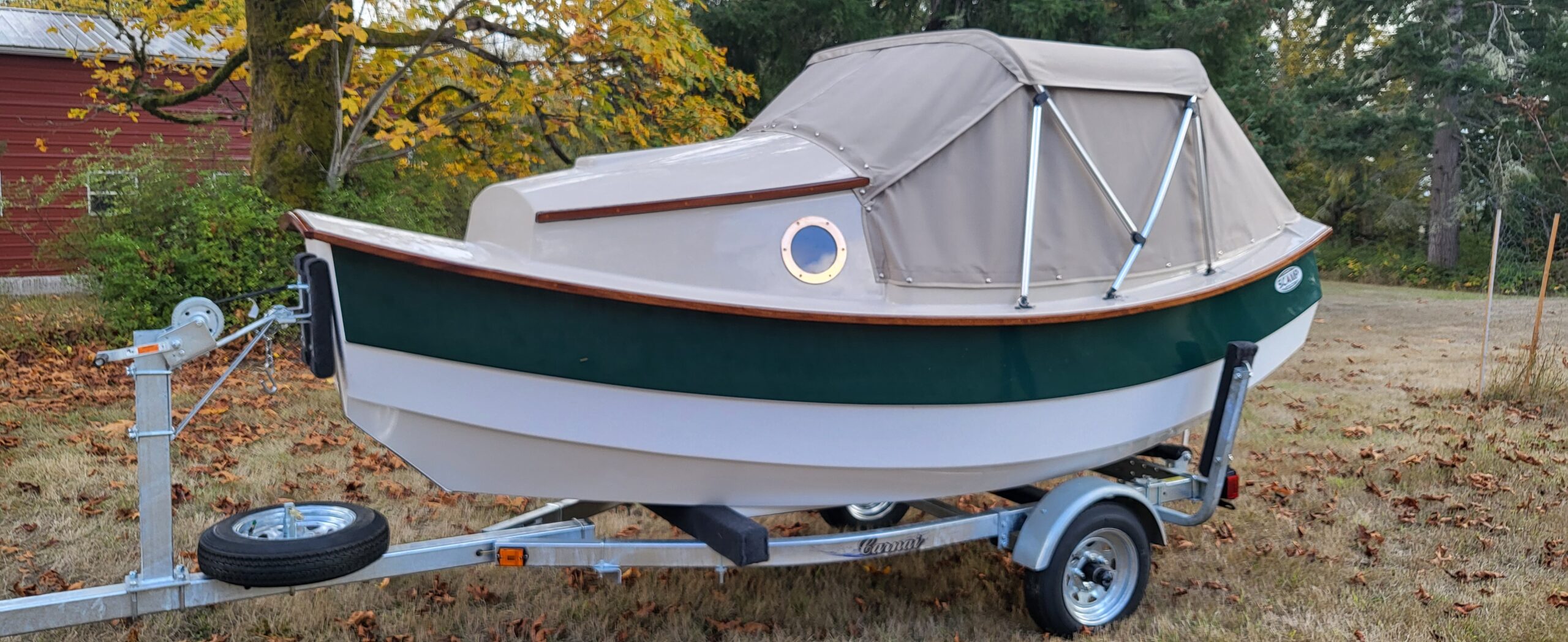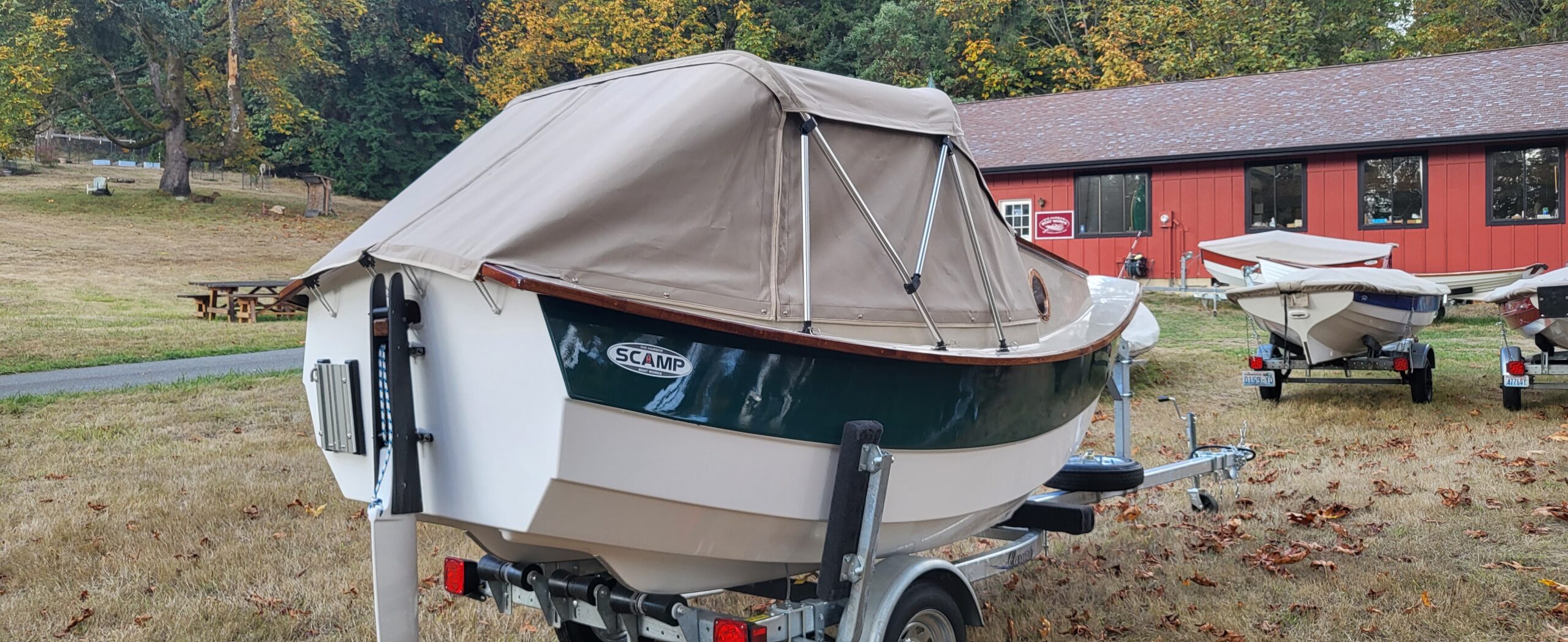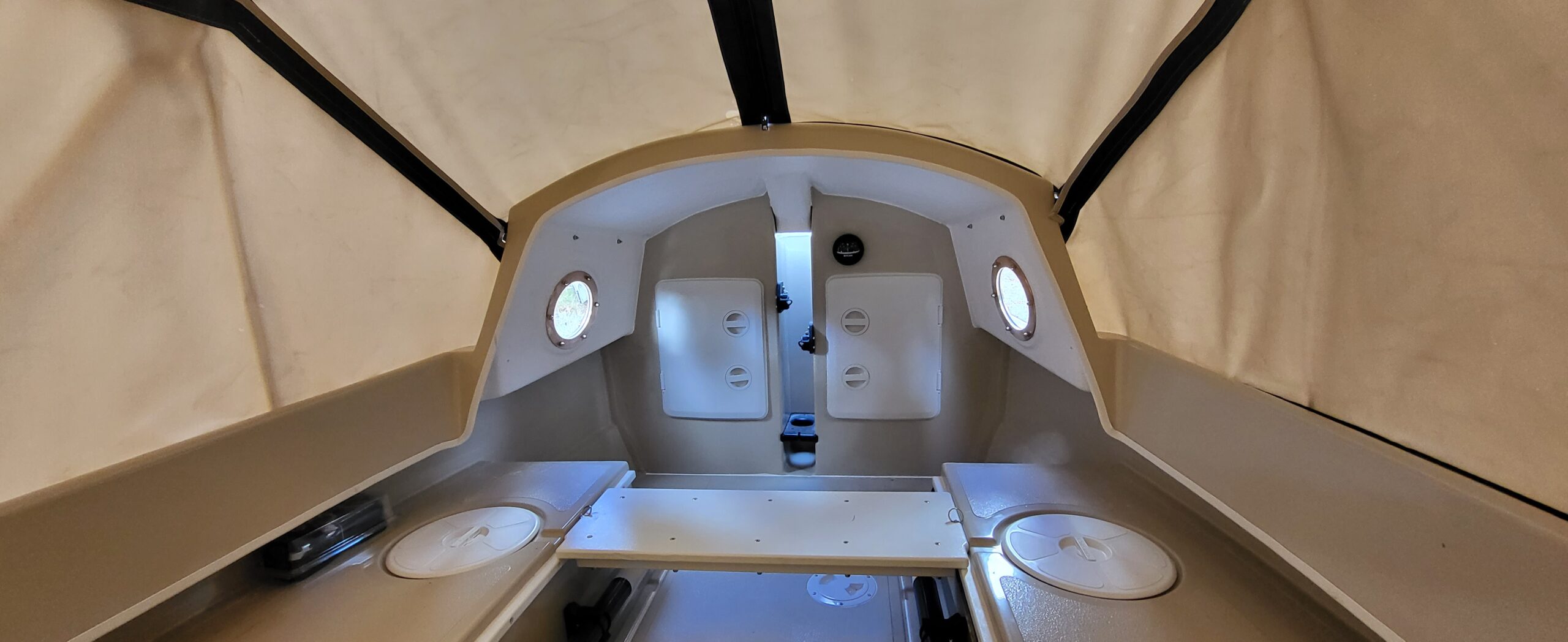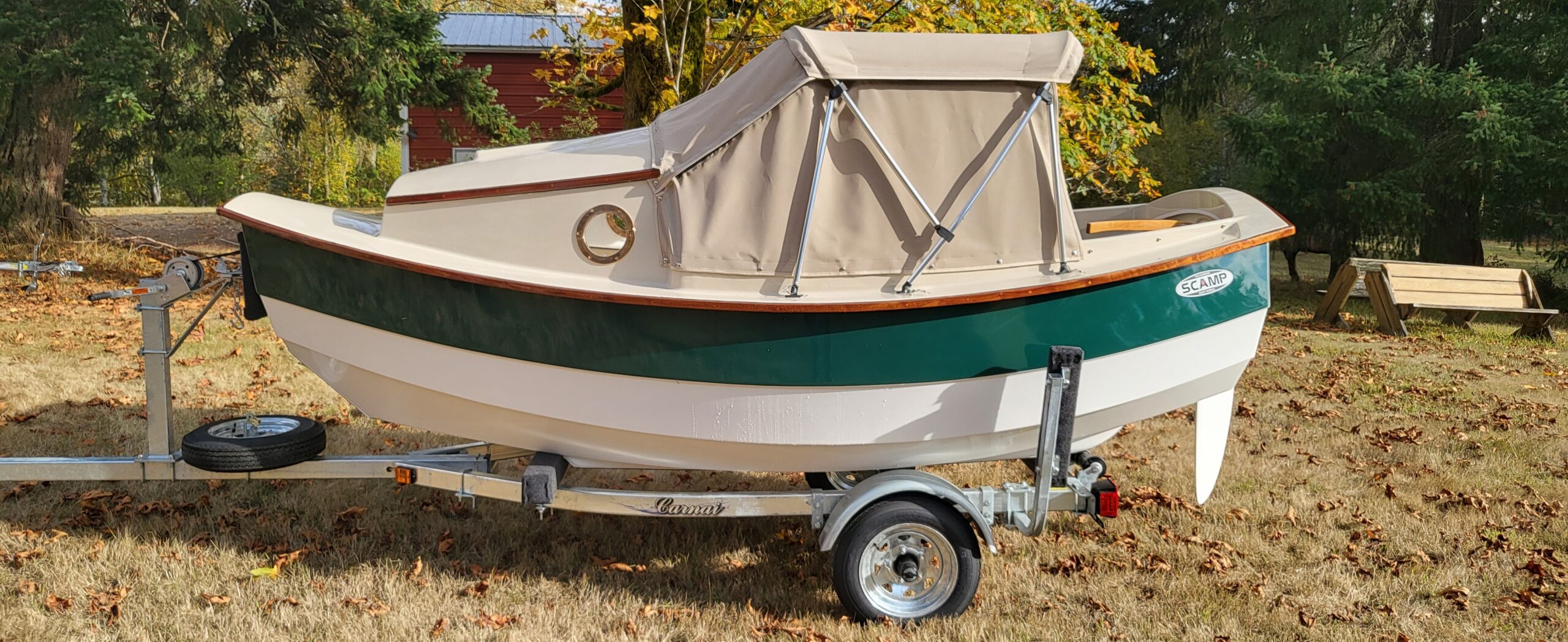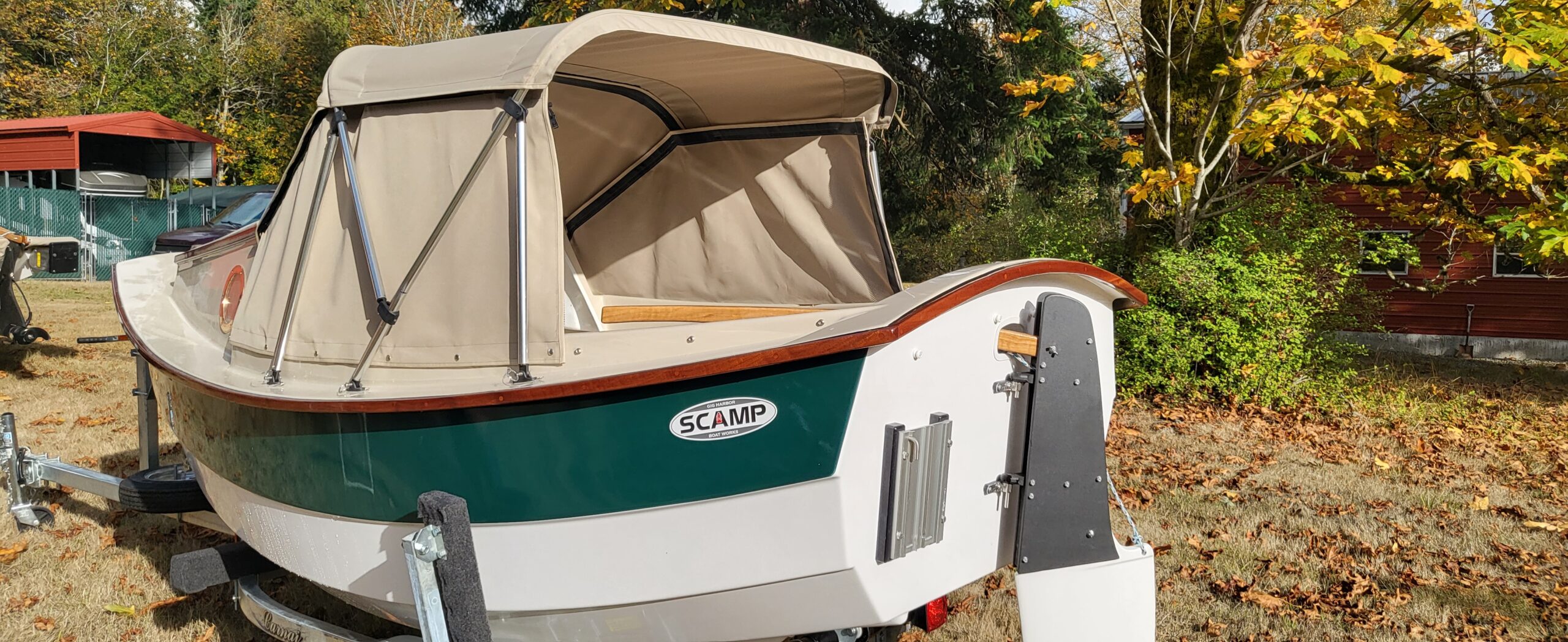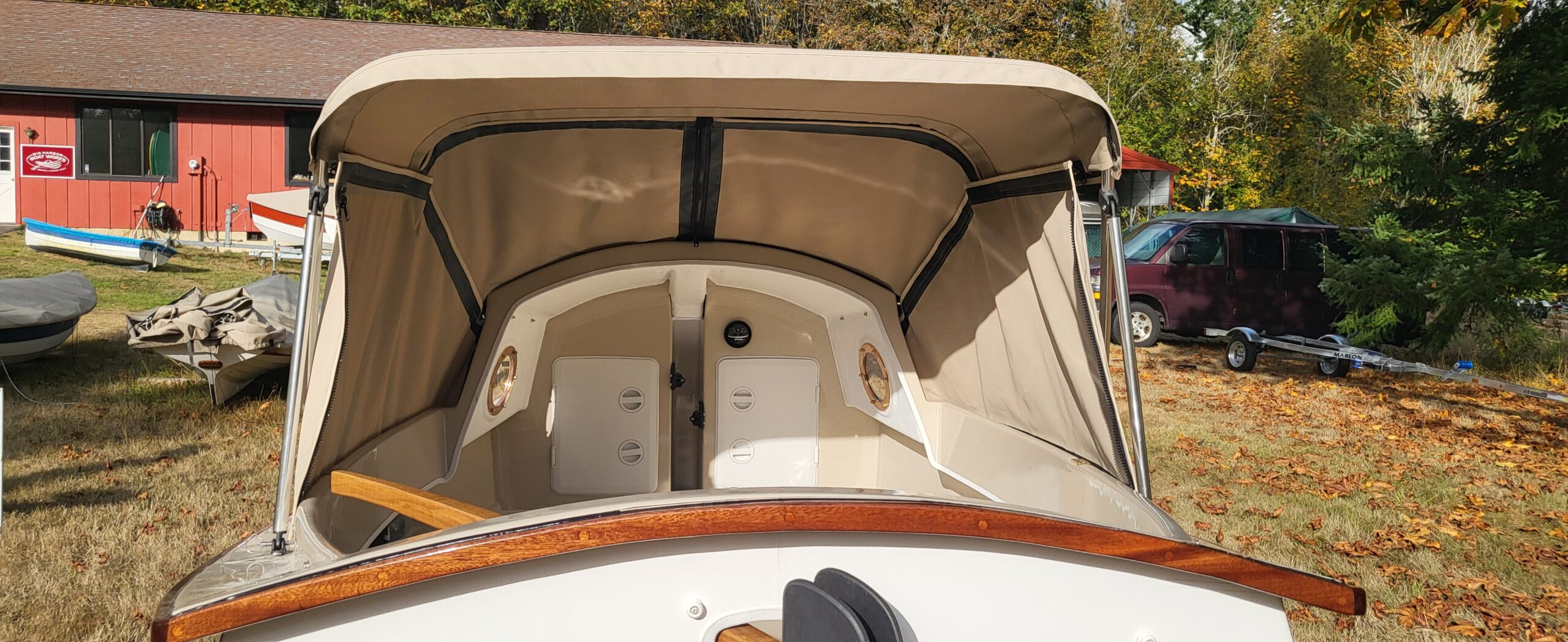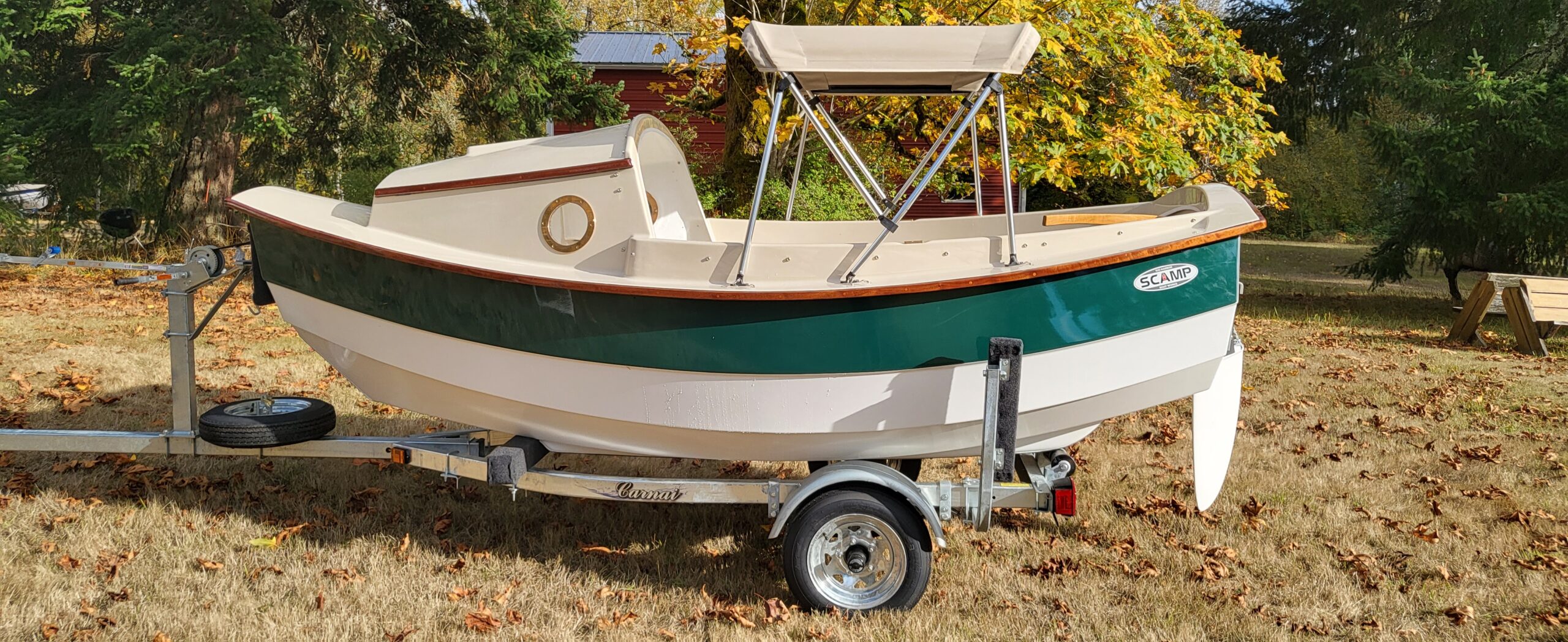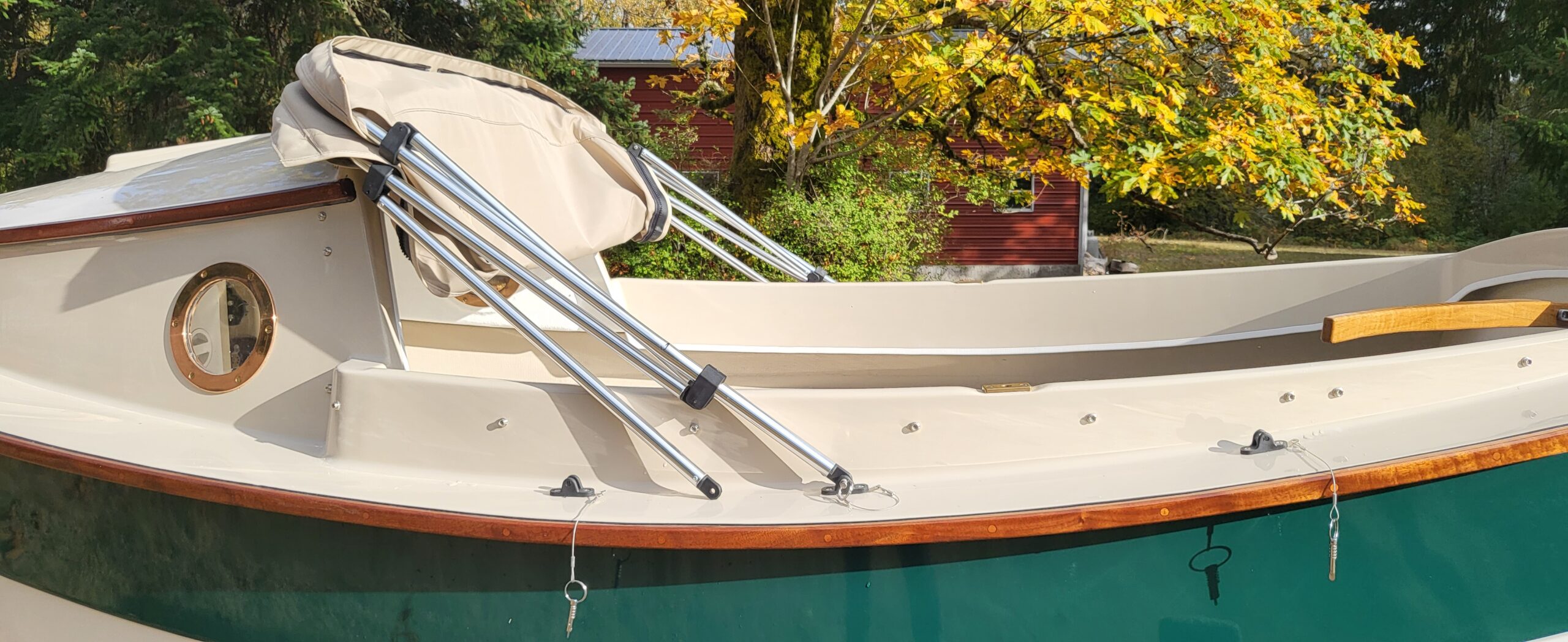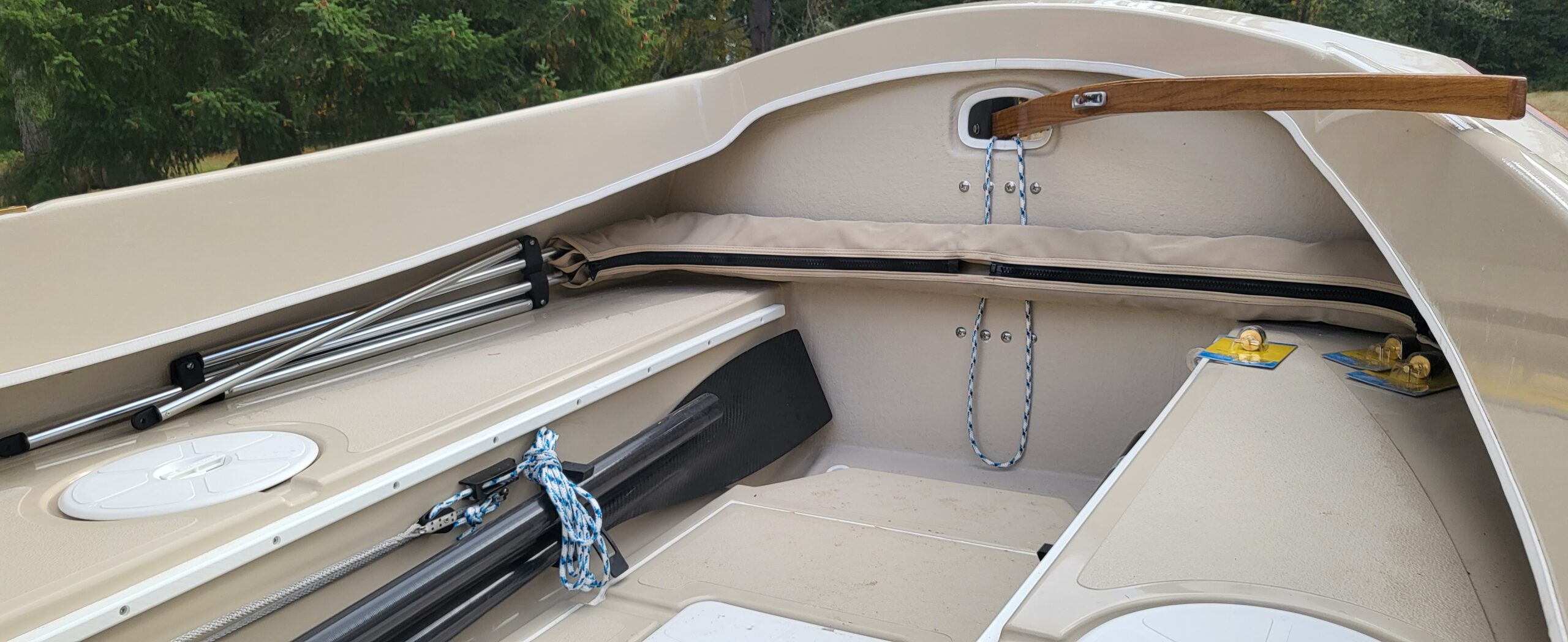 Installation and Materials
The frame for the cover fastens down with these easy-to-use toggle pins installed along the outer deck at the gunwale. Then the canvas is snapped down onto the snaps installed along the gunwale, and the elastic loops are fastened to the four "buttons" along the transom.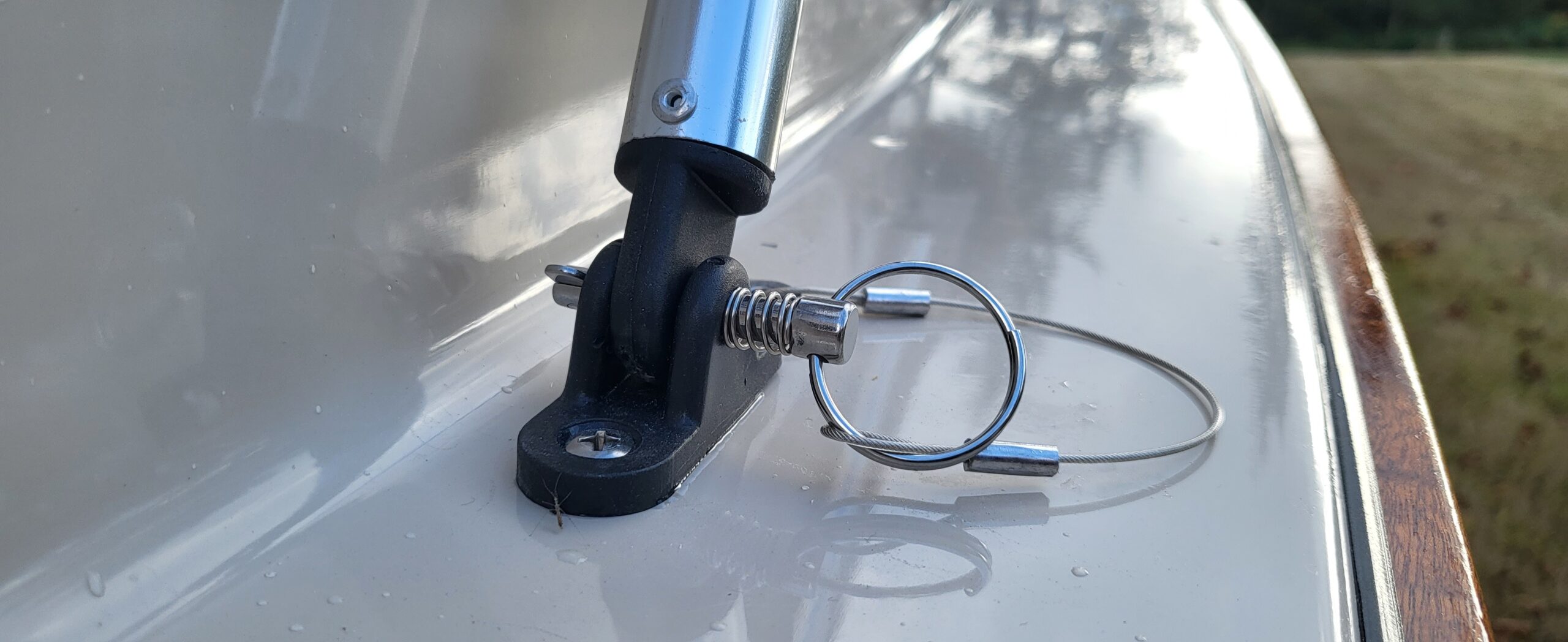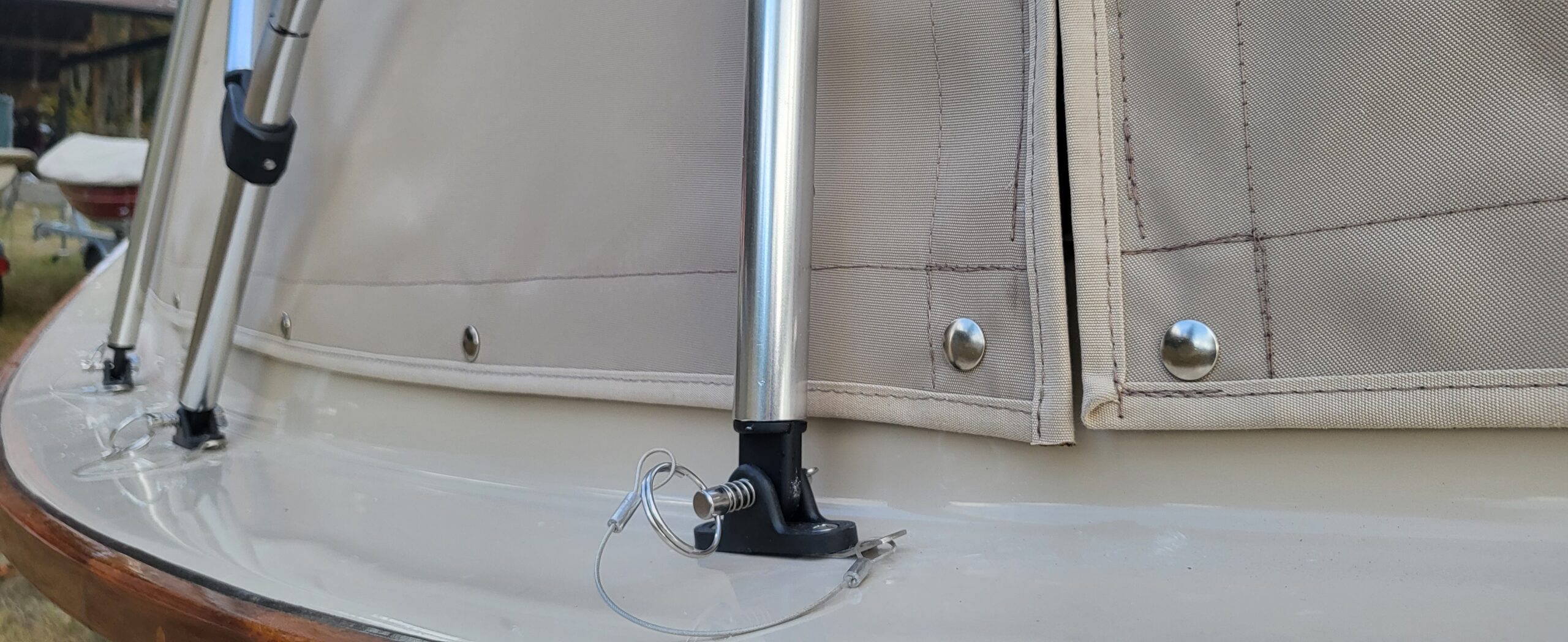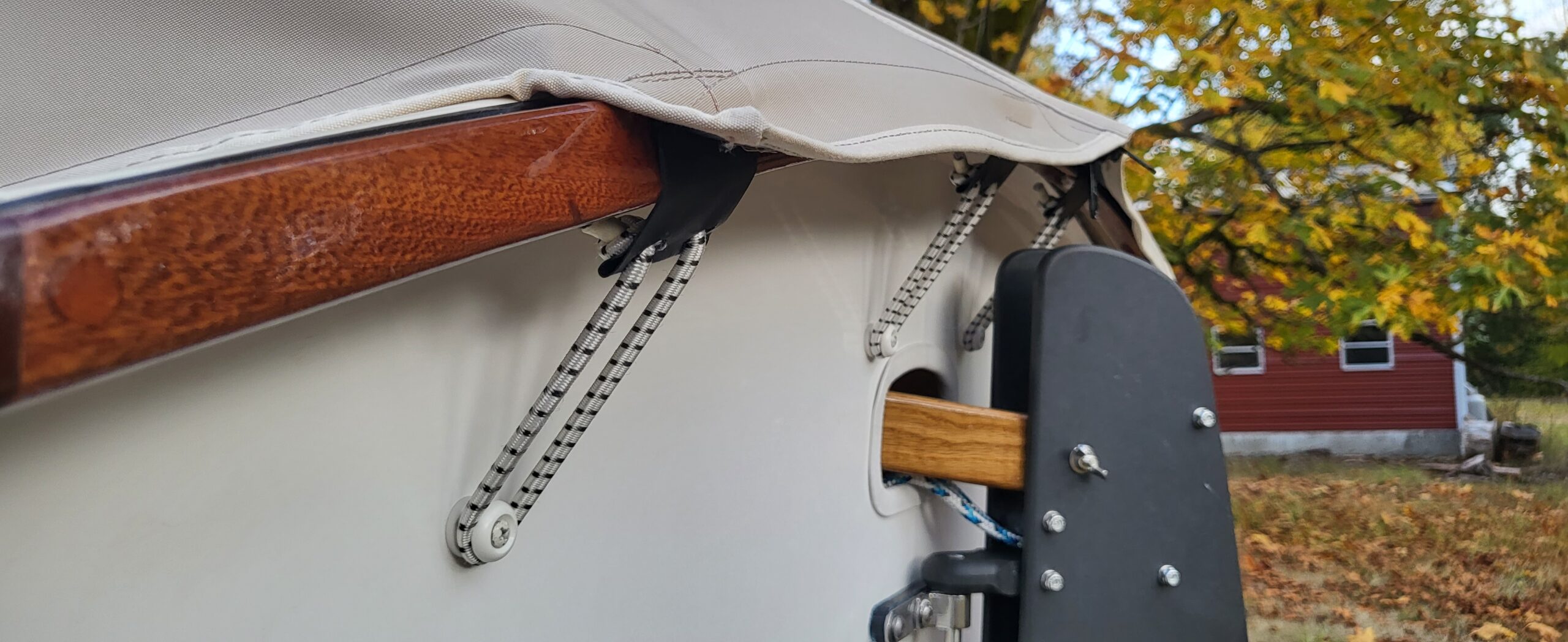 The cover is made of marine grade canvas. The tan color is standard – if you want to color-coordinate your cover to your boat, that can be done for an additional charge (depending on fabric availability it may also increase your wait time).
FREQUENTLY ASKED QUESTIONS about the SCAMP CAMPING COVER:
Can this also be used as a storage or trailering cover?
No, but we do offer a different cover for that purpose. Our travel cover fits over the entire boat to keep everything safely tucked away, and is designed for travel at freeway speeds. You can fit the entire mast and sail rig under the cover, leaving your boat fully self-contained and packed for the next trip. It is breathable and secure for travel and long-term storage. Here are some photos of the travel/storage cover: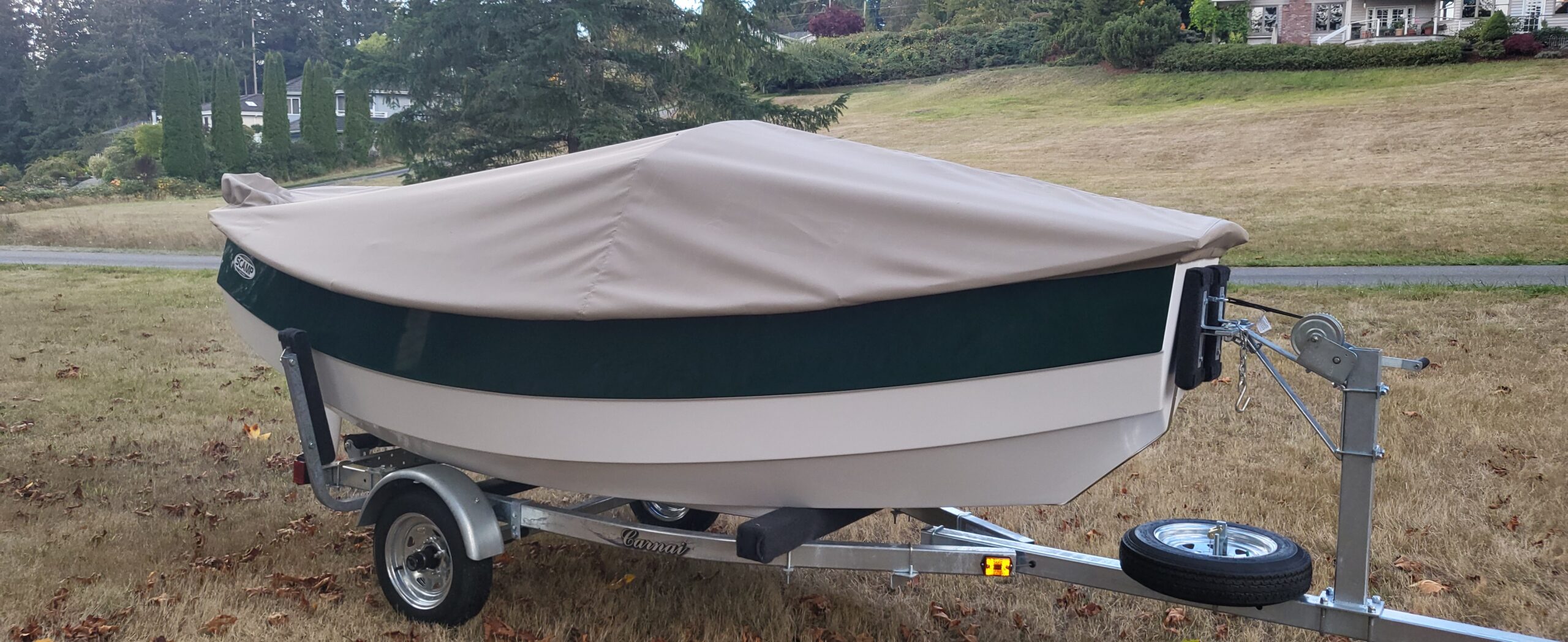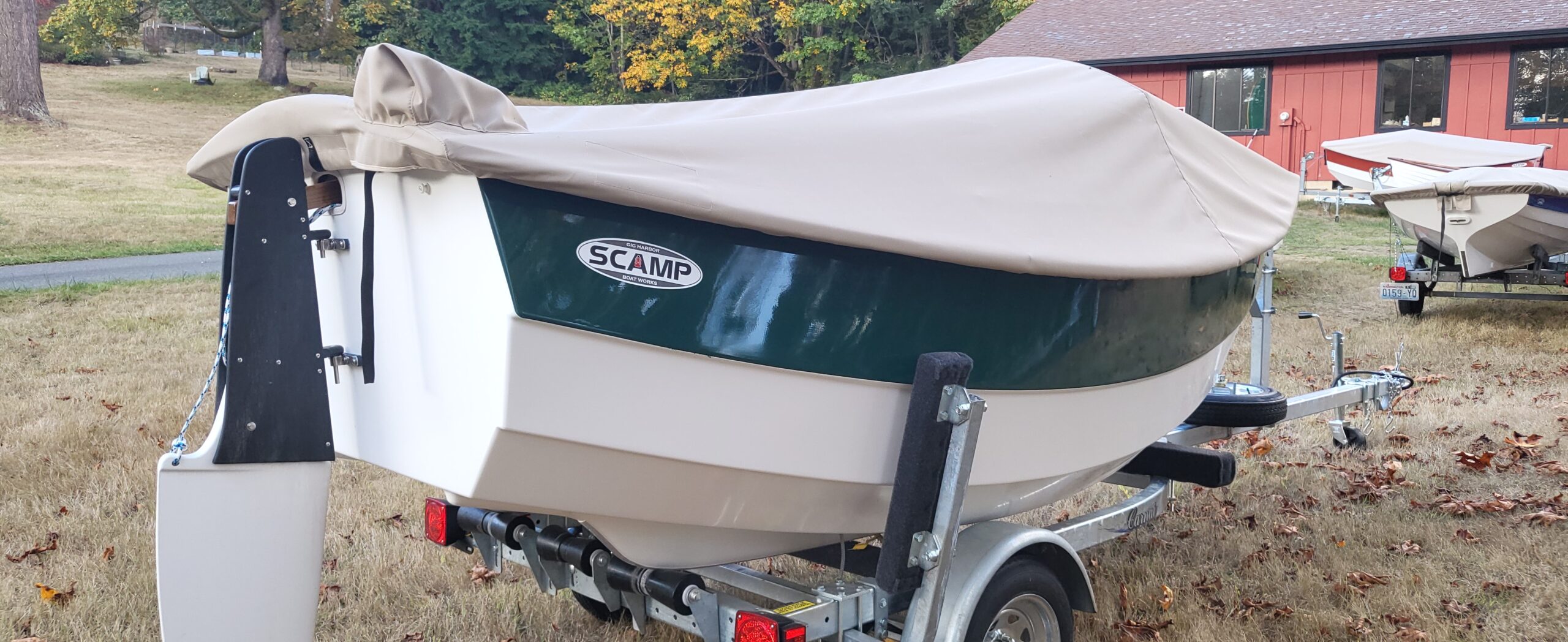 Why no windows?
Our early version was modeled more after the bimini-style cockpit enclosures you find on larger sailboats, which have a lot of windows for visibility underway. However, we soon discovered that isn't actually ideal for the SCAMP, for two big reasons:
The nature of the SCAMP rig makes it really tough to sail with the top up, and you can't have the front sections on at all or you'll obstruct your lines.
The vast majority of SCAMP sailors wanted the cover for camping privacy at a dock, and being surrounded by a wall of windows is not exactly a private setting!
Removing the windows made the cover much more affordable to build, and the Scamp's built-in portlights do let plenty of daytime light in so it's still easy to see when you're zipped up. There's more light than you'd have in your typical garden-variety camping tent. That being said, the camping cover can be customized with windows at your request for an additional charge. Here's an example of the window configuration we had on an early version: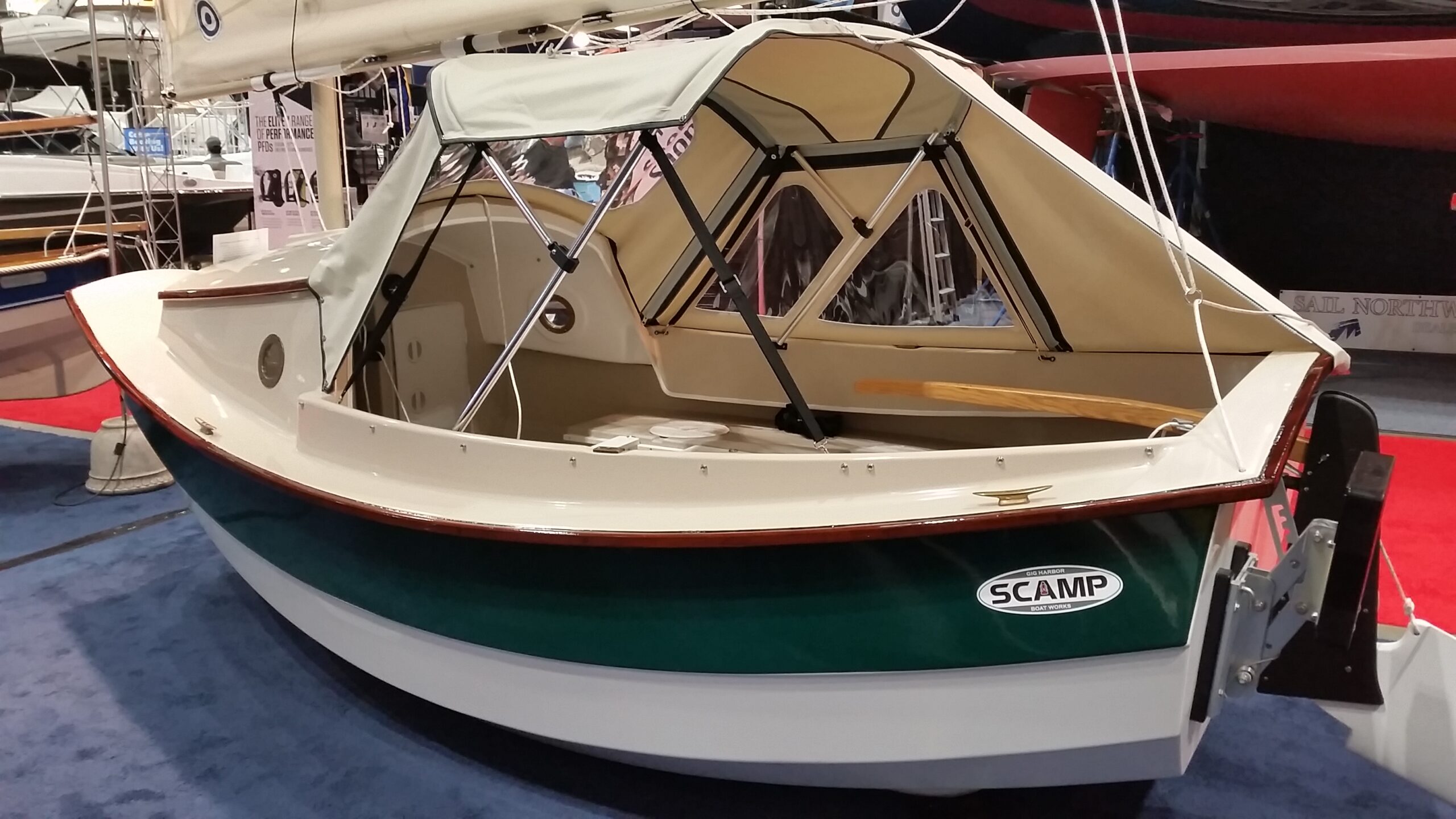 Can I get one for a home-built wood SCAMP?
At this time we only make these for our fiberglass SCAMPs that we build at Gig Harbor Boat Works. Our canvas maker is very precise and works to tight tolerances, and DIY builds can have variations that makes custom-fitting covers really challenging. That said, our sister company Duckworks Boat Builders Supply is working on adding stock storage covers for the homebuilt SCAMP, and a version of the camping cover is also a possibility. If you're interested in that, get in touch with them here to let them know you'd like updates on that project.
That said, we do have a lot of other convenient options from our SCAMP that are compatible with the home-built version; our trailer, mast (and full sail rig if needed), and takedown oars are particularly popular.
How much is it?
Current pricing for the SCAMP Convertible Cover is available on our prices page.
Learn more about this unique boat and other options available for it here!