Our friends at Oar Northwest are at it again in their Gig Harbor Jersey Skiff rowboats, making their second annual trip down the entire length of the Mississippi River. The purpose of the trip is for scientific water study and to bring adventure to the classroom. OAR Northwest was founded by Jordan Hanssen and Greg Spooner, with the goal of boosting adventure education in K-12 classrooms. This year they are traveling 2,320 miles from Minnesota to Louisiana.
The team stops at local schools letting kids ask questions about the experience, the science, and the organization's goals. They get questions covering many important topics, like:
"Can you still play video games?"

" Why did you go on this trip?",

…and the greatest question, " How do I get started?"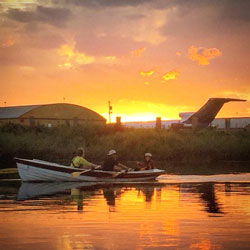 In addition to their educational stops, the team takes scientific samples for Universities around the country. They test for chemicals or bacteria in the water samples and also for tiny bits of plastic, which they scoop up with a net behind the boat. These very small particles are very harmful to wildlife, and if eaten can cause sickness and sometimes even death . Sadly, there isn't much research being done on plastic in river water, which makes what OAR Northwest is doing all the more important and valuable to the scientific community.
In their latest newsletter they state how many people who they meet are nervous how the little boats will handle the different weather conditions the team is faced with.
" The stories they tell are not of fast speedboats or little kayaks, we are using traditional style rowboats.. Most people do not have experience with rowboats so they do not appreciate their seaworthiness and efficiency. Unlike jet boats, which move fast, and do a lot of damage when they hit things, the rowboats go slow and steady. And unlike canoes or kayaks that can get swept along by the current, the rowboats have greater power and steering capabilities. The rowboats that are used on the AMR expedition, built by Gig Harbor Boat Works, are called Jersey Skiffs. These were originally designed in the mid 1800's to be rowed in large waves off of ocean coasts and weigh 250 pounds. They have a steel bottom and are not tippy even in rough conditions. The boats only travel at about six miles an hour so the crew is able to spot obstacles well in advance. Even when the crew does bump up against something they just bounce right off.."
We are happy that the boats are working so well for them and that we have been able to help with this journey. We wish the best of luck to the team!
Make sure to check out the interview done between the team and a group of fifth grade students and hear more about the adventure!
Also be sure to check out more about the trip from our own Tacoma News Tribune.