One of our favorite things about the Boat Show season is that a lot of our customers come by the booth to say hello, and tell us about their adventures.  It's exciting to hear about where our boats end up!
A 12′ Point Defiance owner, Steve H., came by to say hello, and also sent us a photo of his family enjoying their boat at Prideaux Haven in Desolation Sound, BC.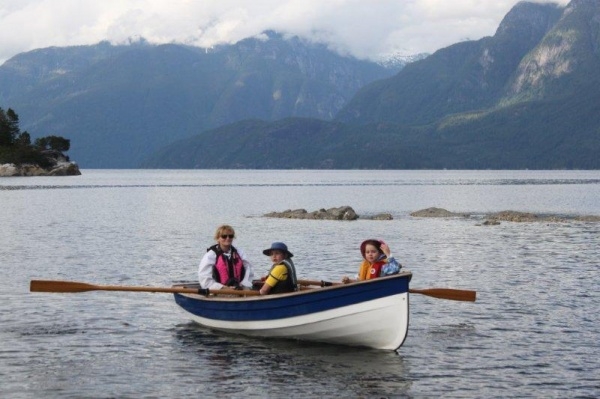 We also heard from Jim and Rosi, who are enjoying their Whitehall at Heron Lake, NW New Mexico (rare to see one of our boats in those parts)!  Here's a snippet from their report:
Greetings…

We had ordered the boat in May and were on a waiting list with Gig Harbor Boat Works … and the sleek rowing hull, christened LIL' BELLE, was certainly worth the wait. We only ordered one set of 8′ oars, but surprising, with the well designed sliding bench, Rosi finds rowing easier on her back and so we can take turns. We also had the boat equipped with sailing option and it arrived complete with everything we needed to sail on Navajo Lake including mast head windfly. Rosi was going to build the cover,but for lack of good sewing machine and space on the NuVee, we had that made in WA and delivered with the boat to CO. We were both impressed with the design and materials; all the "stuff" fits under cover while trailering.

On a day with brisk wind here on Heron we learned there was no room for our recent lack of smallboat sailing skills; e.g. tacking with main sheet cleated and failure to lock down the daggerboard. After the capsize,we searched the mud bottom thru 18′ of water for a full week. As Yvonne suggested at the outset, writing the check and having a new carbon fiber board shipped to Santa Fe was painless and much quicker. Co-incidentally Marcia Yahn (Madison) was visiting with her cousin, Jennifer, and Abad brought the board with them to visit us at campsite under Georgia O'Keefe's CERRO PEDERNAL on Abiquiu Lake three days after our call to Dave in Gig Harbor.

…With Fall rains and cooler nites here in the "High Country", the new (to us), empty house in LaBelle FL beckons. So we look 4ward to rowing in the Caloosahatchee River/Okeechobee Waterway.

…Alles Gouda (ALL THE BEST) and no hurricane troubles from (CHEESEHEADS)

jim and rosi
Next we've got a beautiful photo (thanks, Molly!) of another Whitehall out for a row in Auke Bay last summer:

That's all for now – as always, we invite you to share your photos with us! We love to see them!