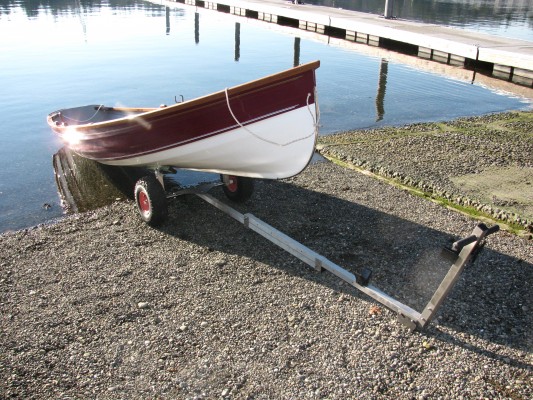 Have you seen our new, exclusive GHBW Beach Dolly?  We're happy to present our own design, which recently came to fruition after many iterations of design and prototype testing.
After using and selling several brands of boat dollies over the years, we came to the conclusion that the market lacked a high-quality dolly product that really met the needs of dinghy owners. We designed and started building our own Gig Harbor Boat Works dolly out of frustration with other types of launching dollies. Others are too wide to go through narrow gates or path, too heavy, hard to assemble, only fit one size boat, are made of mostly aluminum parts that may corrode in a saltwater environment, are difficult to disassemble for transport, or have poor customer service and slow shipping.
With these experiences in mind, we set out to create our own that had to meet all of the following requirements:
100% stainless steel construction (completely non corrosive)
Narrow wheelbase (to fit through narrow openings)
Length instantly adjusts (to fit any boat from 8′ to 17' in length)
Adjust length without tools (pull and replace one stainless steel avibank pin)
Light weight (ours is only 32 pounds)
Easy to Disassemble (ours breaks down into 4 primary components for transit without tools)
Heavy duty (ours easily carries boats up to 250 pounds – other dollies have weight limits of 150 pounds)
Stainless steel axle – all others use a soft aluminum axle
All told, we think it's a fun and easy way to handle launching and beaching of your boat!  You can see some more photos on our Beach Dolly page.