Welcome! Thank you to everyone who stopped by our booth at the Seattle Boat Show. We are always glad to see former and new customers. If you didn't get a chance to come by we are at our shop Monday thru Friday. However we are really busy building boats. So if you want a chance to go out on the water, please call ahead. Contact us.
Now we would like to warn those of you who are thinking about getting a boat this summer. And that is we took a large number of our annual orders at this show, so if you are wavering now is the time to put your money in and secure your place in line.
---
This year at the boat show we had a moment to walk around and see some of the other exhibits. One exhibit that caught our attention was some local boys who are going to row in a race across the Atlantic! We have decided to become a corporate sponser. After looking at the sliding seat on the boat, we are going to see if we can make something better. Our current plan is to build a seat and track system using the Melonseed as the basis for the design.
These photos are from the Oar Northwest rowing group's booth. And should give you a feel for the enthusiasm of this team.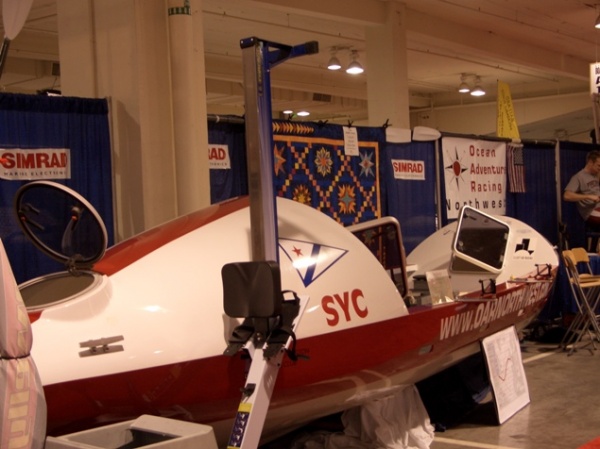 A photo of the specialized ocean dory they are going to use.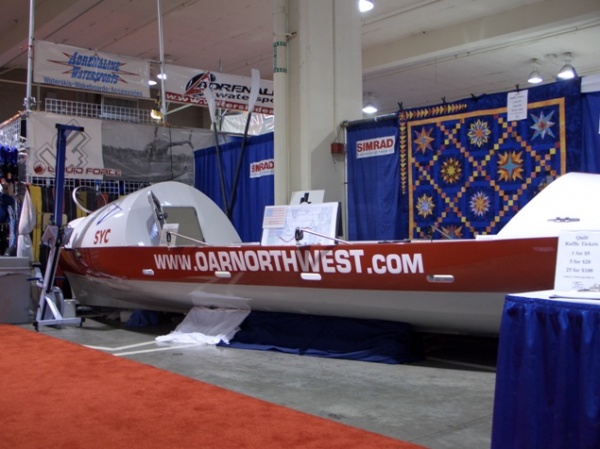 Another photo of the dory.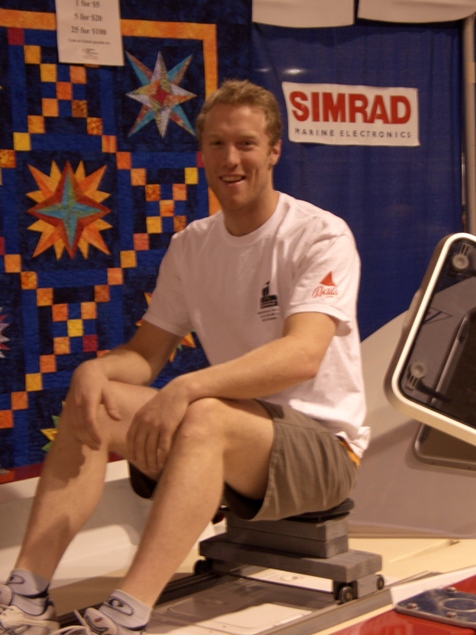 A photo of the crew on the current sliding seat.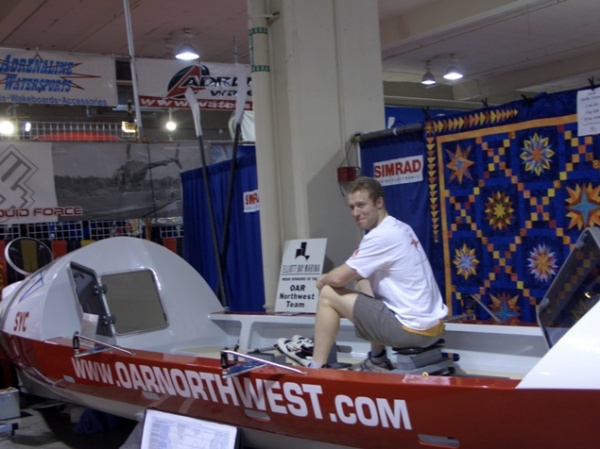 Another photo of the crew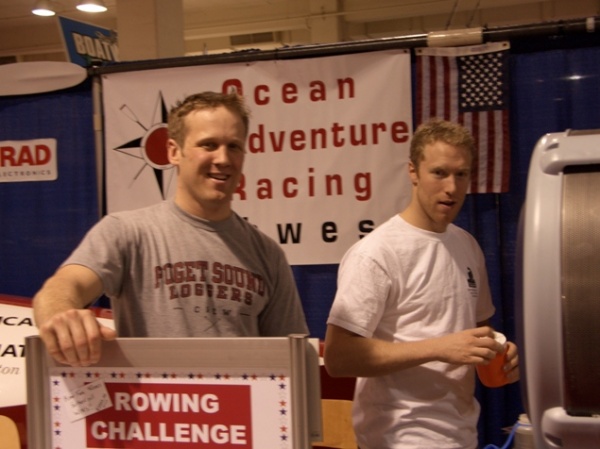 A photo of two of the crew who were manning the booth and answering questions the day we came by. Just by looking at these guys, we think they have the strength to be a contender.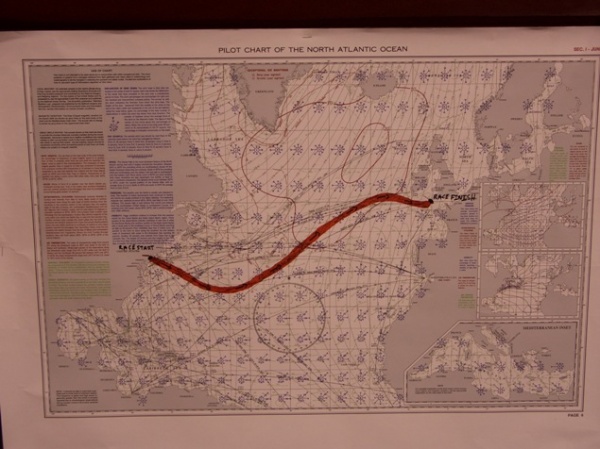 A rough representation of the course that they will have to row.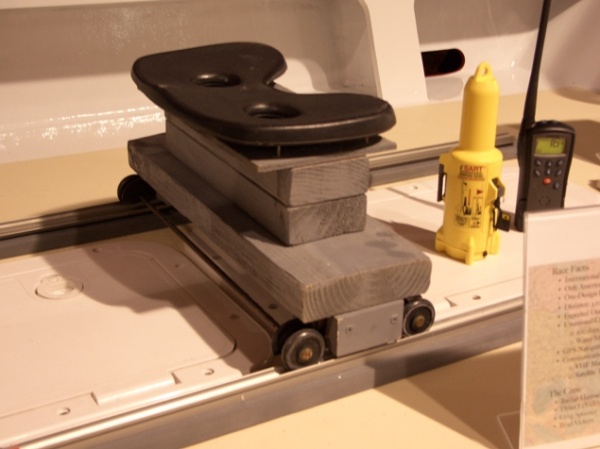 Check out this High Tech seat! We think that we can do better.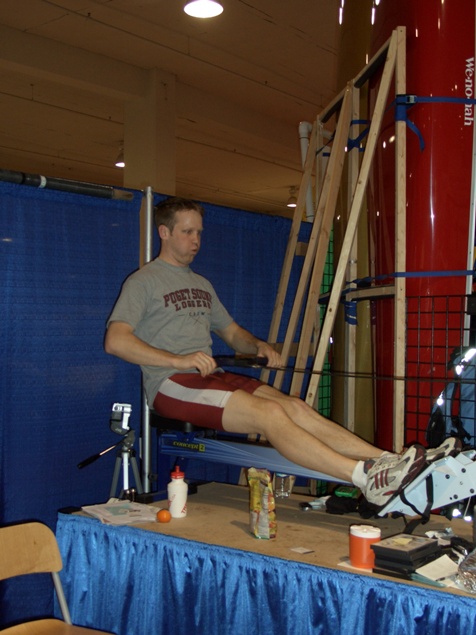 These boys took turns during the show and effectively rowed from Seattle to Chicago on this rowing machine. We think they'll be a top contender in crossing the Atlantic.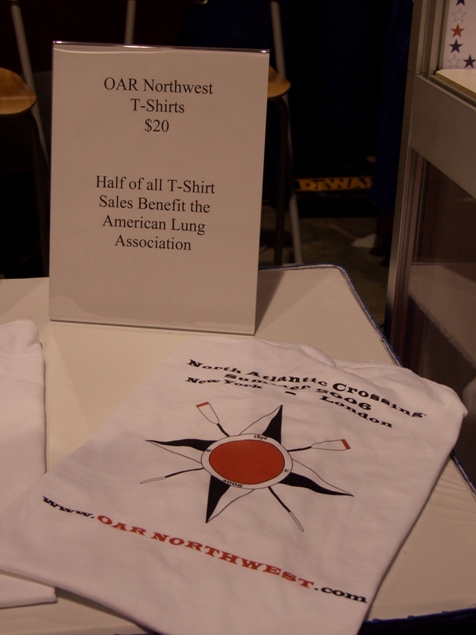 These tee shirts are available from their website.
The offical web site for this effort is Oar NorthWest. We are sure that they can use any help that you can give them.
As you can see from the photos, we've got our work cut out for us. The sliding seats they will need must be strong enough to hold up for the entire trip which could last as long as 60 days. In addition these boys are strong and getting stronger with their training, so they aren't going to let up once they get going.
---
So that's all the news for now. We'll be posting some more photos as the work on these seats progresses so check back. Those of you who promised us photos at the boat show, and you know who you are, after the Hawks win the Superbowl, it would a great time to dig them out and send them to us. Thanks again for stopping by at the show, and look for our up and coming newsletters!