Our brand new 17′ Salish Voyager hit the water for the first time this week! It's not done quite yet, but this water test ensures that the boat functions as designed before we go into the final construction phase.
After the initial ooohs and aaahs and "hooray it floats!", Falk and Dave took turns taking her out for a row on a glassy-smooth day in Gig Harbor and were immediately impressed. Hoo boy, did she live up to our expectations! This boat is going to be a stellar traveler for long-distance journeys, exactly as we'd hoped it would be.
"She moves through the water like a razor through velvet."
— Dave Robertson, Gig Harbor Boat Works Founder
---
A couple of days later when there was a bit of wind, we took her back out again for her first test sail. That step is important to make sure the daggerboard sits exactly where we want it before we complete the interior floor. Once the mold is built, there's no going back!
She's temporarily outfitted with the lug rig from our 12′ Scamp for testing purposes. The Salish Voyager will have a very similar rig to what you see here, with a slightly shorter mast and some adjustments to the attachment points, etc.
We couldn't have been more pleased… she's fast, forgiving, and nimble.
"This boat is fantastic. Sailing was smooth as glass. Super fast, pointed well, and well-behaved when we had some good gusts. Perfect balance on the helm."
— Falk Bock, Gig Harbor Boat Works Manager
---
Now that we know exactly where the daggerboard trunk will sit, we can finalize the interior. The substantial stuff is done from this point, so now we're down to final details like the fiberglass floor, the daggerboard supports, and the aft panel where there will be access to storage and the water ballast tank.
In this picture from the balance test you can see the general layout of the interior, and the unfinished floor. Click or tap the photo to enlarge.
Balance testing is important for any boat, but especially for one that will be subjected to the demanding conditions of a longer voyage. This boat is so stable, we think it's already living up to its name.
To test the balance, we heel the boat over as far as we can to see the tolerances without capsizing. In this picture below you can see just how far Dave had to step onto the edge to get it to heel over. And keep in mind there's no ballast in here yet; that would make it even more stable than it already is.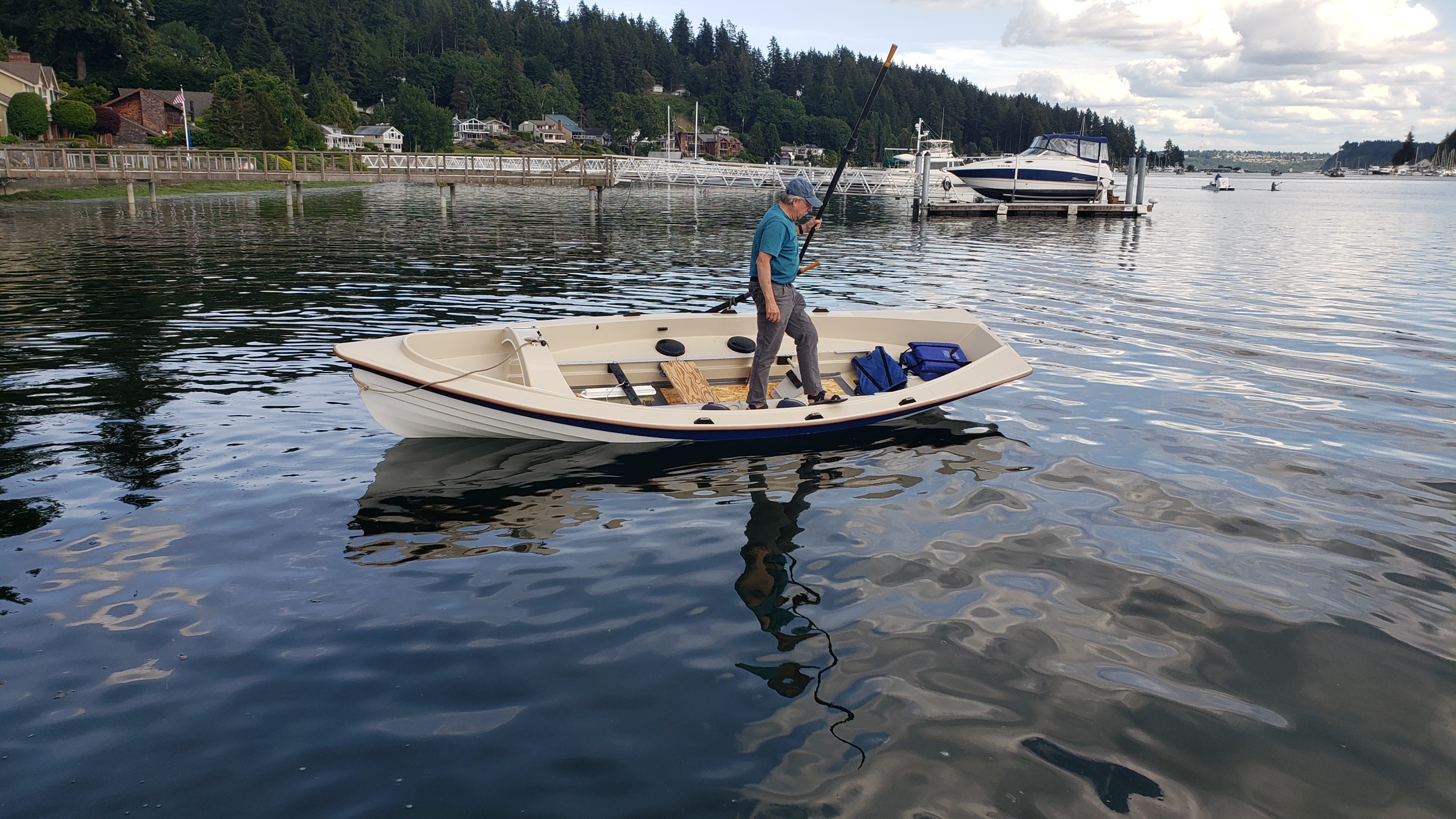 Once the interior work is done, we'll have our final production molds so we can start filling orders! If all goes as planned, we should be able to start construction on Salish Voyager #1 in just a few weeks.
As we're on the home stretch, we want to take a moment to thank the fiberglass shop team for all their hard work on this project. Building a brand new fiberglass boat from scratch is a complex process that always takes some problem solving and persistence. It's one thing to have a vision in mind; it's another to have the skilled team that can make it a reality. Thank you Falk, Jeremy, and Fred for your great work.
The team's dedication and skill is why we were able to simultaneously develop this new boat, keep building orders for our other boats, and manage to stay afloat when so many other small businesses are struggling. It feels like we're doing our part to give a little bit of sanity into the world, and help people reconnect with nature and simple pleasures in a time of so much uncertainty.
Scroll through the gallery below to get a few more views of the Salish Voyager (it may take a minute to load).
---
This boat is living up to our highest hopes that we could build a truly expedition-worthy small craft that rows as well as it sails, and that you can take just about anywhere you'd want a small boat to go. There's plenty of dry storage for your food & gear, and when you lift out the removable rowing seats it should even be spacious enough to sleep aboard. There's also the option of tandem sliding rowing seats if you want to take a companion on your adventure.
Of course, all this progress means that the pre-order discount will be expiring soon. This is your last chance to get a once-in-a-lifetime bargain on a boat for the adventure of your dreams.
---
Our $2,000 pre-order discount expires on June 28th.
---
To reserve your place on our build list, you'll need to place a 25% deposit on a confirmed purchase order. We are pleased that our order volume has been steady amid the pandemic (thank goodness), so the waitlist is about 3 months out right now. The sooner you place your order, the sooner you'll get to play with your new boat!
Since we build every boat to order, we communicate with each and every customer to confirm that you're getting exactly the boat you want. If you know you want one of these boats but aren't set on the details yet, we recommend placing your order sooner rather than later because you can always make changes before we start construction. We'll reach out to contact you a couple weeks before we start building your boat to hammer out any final details. Read more here about our ordering process.
---
Ready to start customizing your Salish Voyager?
Start your custom quote right here. Play with the options as much as you like with no obligation or e-mail address required to generate your quote. Once you think you have an idea of what you want, you can submit the quote to the boatshop to discuss details. If you'd like a little more help or aren't quite ready for that step, you're welcome to contact us here.